'It's not safe enough': Some families opt to keep children home from school
'Empathetic' response from education ministry favors persuasion over prosecution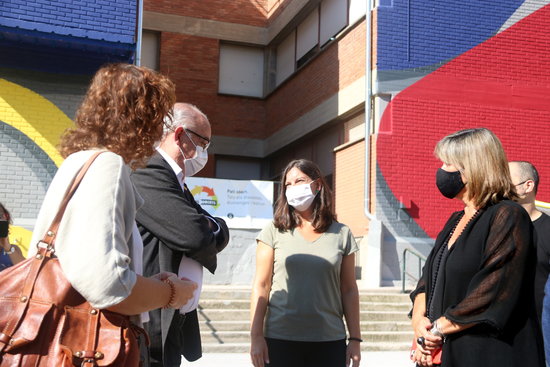 As schools across Catalonia reopened on Monday following a six-month hiatus, some families opted against sending their children back to the classroom, despite being obliged to do so.
Marta Martínez from Lliçà d'Amunt, north of Barcelona, is a member of the Association of Families for Safe Educational Choice (AFEES), and is worried about the risk of her children catching Covid-19.
"We want them to socialize and to study, but not like this," she says.
Marta and her partner Raúl share four children, two each from previous relationships, and kept three of them off school on Monday. One of the children did attend classes, due to the wishes of Raúl's ex-partner.
The family are worried about the potential impact the virus could have on the family, as two of the children have asthma while Raúl recently had a tumor removed and is diagnosed with Cushing's syndrome.
Marta claims the "the resources offered by the school are not enough," and wants authorities to "assess our vulnerability as a family," proposing that a teacher comes to the family home to teach the children there, or - perhaps more realistically - that a return to online teaching is considered.
She said she was disappointed classes have not been split in two, and argues that not enough hygienic measures have been taken and that there is a lack of ventilation in the school. "It's not safe enough to take them to school," she insists.
Empathy from education ministry
Catalan education minister Josep Bargalló said his department will respond empathetically to those families who have kept their children off school, and will try to persuade them to change their mind rather than looking to prosecute.
"We will try to convince everyone that school is the safest place and that their children have the right to education," Bargalló said during a visit to Joaquim Ryura school in L'Hospitalet de Llobregat, close to Barcelona.
The education department hasn't recorded how many of those pupils that were absent on Monday were off due to worries surrounding the current Covid-19 situation.
Bargalló said that there could be "many causes" for absences, citing, for example, cases of families who had not yet returned from their countries of origin following their summer holidays.
While acknowledging that the law has to be applied, Bargalló said that, in the first instance, educational and social services will work with families who have decided to keep their children at home due to Covid-19 concerns.
The minister emphasized that, "despite everything", the school year has begun "with few incidents" and called for people to continue to behave responsibly and observe safety measures at the school gates.