1.5m students back to school after six months amid Covid-19 restrictions and fears
Staggered arrival times, compulsory face mask use and temperature checks as two schools cannot open due to quarantined teachers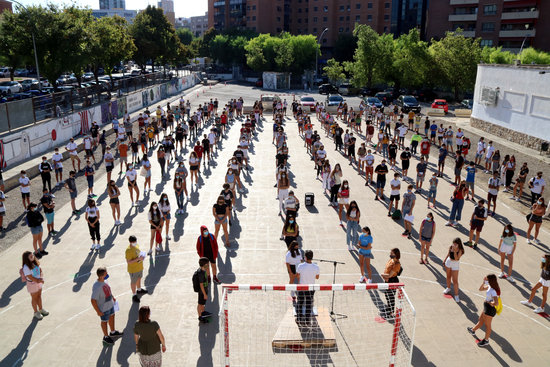 More than one and a half million students went back to school on Monday morning as the 2020-2021 year kicked off after a six-month hiatus.
The most atypical academic year in recent times began with Covid-19 restrictions very visible in all centers.
Entrances were staggered to avoid crowds, and everyone above the age of six had to wear face masks.
Some schools checked the temperature of students as they accessed their centers – the safety measures include that pupils have to stay home if they have a temperature of over 37.5ºC.
The recommended maximum size of classes was 20, but some 30% of the centers could not comply with it on the first day.
In the past few weeks, the education department has insisted that stable groups and avoiding mixing children of different groups is more important than the maximum number of pupils per class.
Two schools cannot open due to Covid-19
On Monday morning, the education minister, Josep Bargalló, explained that two out of the roughly 5,400 centers in Catalonia could not open doors on the first day of the year because several teachers were quarantined after one of them tested positive in each case.
The schools Ridolaina, in Montellà i Martinet, in the Pyrenees, and the Joan Juncadella center, in Sant Vicenç dels Horts, in Barcelona's metropolitan area, were the ones with their doors closed for the first day of classes.
Also a third school could not open, Institut Escola Antoni Ubach, in Terrassa, due to a plague of wasps.