Housing rights groups to protest Barcelona real estate fair: 'If it's not canceled, we'll do it ourselves'
Over a fifth of all Spain's evictions take place in Catalonia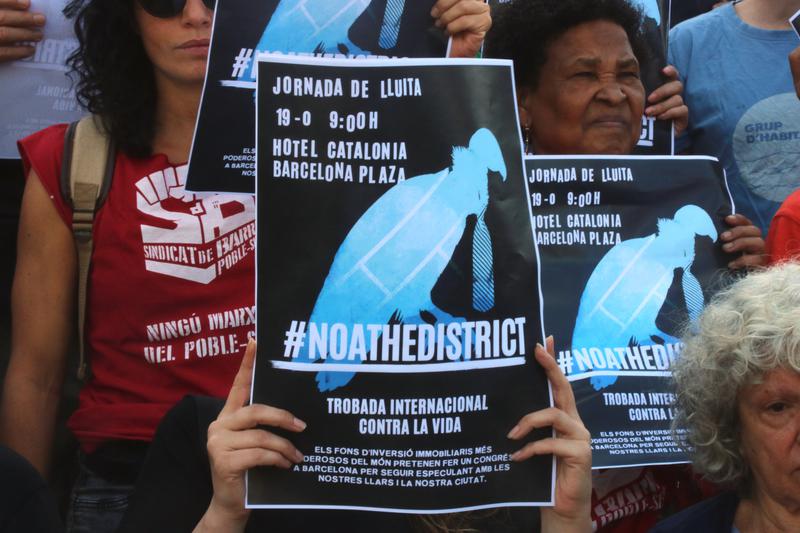 Housing rights groups, as well as unions and neighborhood associations, announced plans to protest The District real estate fair that is set to take place in Barcelona from October 19 to 21.
The District describes itself as "the new international professional event where the future strategy of the Real Estate sector in Europe is defined" that will attract over 200 companies and 7,000 people, but housing rights groups have taken issue with it because firms they describe as vulture funds, like Blackstone, will be in attendance.
"If it is not canceled, we'll do it ourselves," activist groups including the Sindicat de Llogateres Tenants' Union or the PAH anti-evictions platform warned Barcelona mayor Ada Colau — once a member of PAH herself — and Catalan business minister Roger Torrent on Wednesday morning. They consider them to be "complicit" with real estate companies that bring housing costs up and evict people by allowing The District to take place at the Fira Montjuïc convention center.
Barcelona residents are being "asphyxiated" by "the highest housing and food prices in Spain," a spokesperson for the groups said. This is evidenced by "the over 20 evictions per day" in the Catalan capital.
A demonstration has been called for October 19, coinciding with the beginning of the trade show, besidePlaça Espanya square's Hotel Catalonia Barcelona Plaza, not far from Fira Montjuïc.
Barcelona has long been at the epicenter of the housing rights movement in Catalonia and beyond, where activists successfully campaigned for a Catalan rent cap law that was struck down by Spain's Constitutional Court last March.
Over a fifth of Spain's evictions are in Catalonia
There are more evictions in Catalonia than in any other part of Spain: in the second quarter of 2022, over a fifth of all evictions in Spain, 22.3%, took place in Catalonia.
There were a total of 2,414 evictions in Catalonia over this period, or the equivalent of more than 26 per day. While in the wake of the 2008 financial crisis most were due to late mortgage payments, now only around a fourth of all evictions are.
Check out our June 2021 Filling the Sink podcast on Catalonia's housing crisis to listen to stories from the frontline of this ongoing issue.