Barcelona: 18 evictions per day, more than any other city in Spain
Struggle for affordable housing continues despite moratorium on evictions for vulnerable people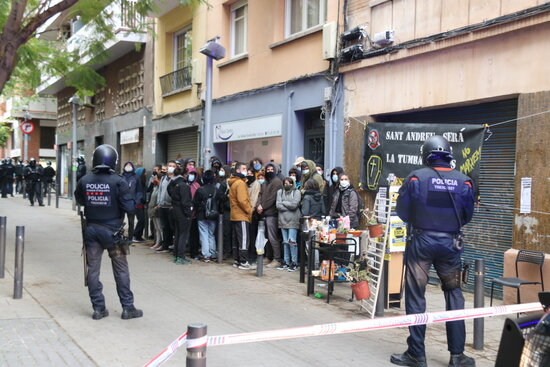 "It feels like only rich people have the right to live in Barcelona."
These are the words of Rebeca, a young single mother of three and a proud Sagrera neighborhood native.
Building Center, a real estate company owned by CaixaBank, kept her rent low for five years, allowing Rebeca and her kids to enjoy a sense of stability. But trouble began two years ago when her contract expired and the property owners tried to raise her rent, first by €800 and then by €600.
"I couldn't and can still not afford it," she says. "If I were on my own I'd find a room for myself, but I can't do that with my three kids who go to school and have their friends here."
Since then, Rebeca has faced four unsuccessful eviction attempts. The latest, which was supposed to take place the day she spoke with Catalan News, was temporarily halted at the last minute by the landlord — not by a judge on the grounds of vulnerability, despite the Spain-wide moratorium on evictions for low-income people that is in place until August 9.
And while Rebeca is yet to find a long-term housing solution for her and her children, she says she finds strength, support, and comfort in her community and the Sagrera housing union in particular.
"The Sagrera Housing Union has been helping me and fighting but we're still at it because this is not over," she says.
Housing rights movements
The Catalan capital — Spain's eviction capital — is home to a very vocal network of grassroots groups, from the powerful Sindicat de Llogateres tenants' union, multiple housing associations in practically every neighborhood, or, for example, the PAH People Affected by Mortgages organization that was created after the 2008 crisis left a devastating wave of foreclosures in its wake.
Well-organized on social media and messaging apps like Telegram, activists will often physically place themselves between the police and the people they are attempting to kick out at only a moment's notice.
They also lobby for laws such as Catalonia's rent cap, which is now under threat and has been taken to the Constitutional Court, as well as Spain-wide policies including more public housing — a domain in which it is currently lagging far behind the rest of Europe.
Building on over a decade of experience, the PAH has witnessed the changing face of evictions. Once mainly mortgage-related as their name suggests — now almost 90% of people in Barcelona who are evicted struggled to keep up with rent.
In fact, some of the PAH's longest-standing activists are former property owners who were able to negotiate low "social rents" after failing to keep up with their mortgages.
Now some of these same people are fighting to have these contracts renewed as the city's pricey rental market is still out of reach for them.
"I had trouble with my mortgage from 2008 to 2010," Delia, a PAH member, explains after one of their weekly assemblies in Barcelona's Hostafrancs neighborhood. "Here we empower people and advise them on how they can solve their housing issues."
In Catalonia as a whole, where 56% of salaries go towards rent, prices have risen 30 times more than wages from 2015 to 2019. And last year in Barcelona, the average rent — €964.81 — was higher than minimum wage.
Evictions on the rise
And then there are also people in Barcelona like Mimi, who are facing eviction for occupying homes they do not own or rent.
When Catalan News spoke with Mimi, a large crowd of protesters had gathered outside the home she has been living in with her two daughters, partner and assistance dog for the past two years.
"One of my daughters is underage and both have disabilities. I also have a serious disability," she says. "Rent at our last place was far too much for us because they wanted to raise it from €900 to €1,400, so we decided to move into an abandoned and run-down house."
And although they've asked the owners, who also have a number of other properties, to let them stay there in exchange for a low "social rent", they are yet to accept this arrangement.
As was the case with Rebeca, their latest eviction attempt was unsuccessful, and Mimi and her family hope to be relocated into public housing before the owners try to kick them out again. But the ordeal has taken a toll on her, and she describes it as "21st-century torture."
"Vulnerable people have been evicted during the pandemic," she maintains, in spite of the Spanish government's moratorium.
The latest figures seem to back her claim: there have been more evictions in Barcelona over the first quarter of 2021, 1,635, or 18 per day, than all of 2020 when there were 1,028.