Government suggests curfew will be lifted on May 9
Spokesperson Meritxell Budó says 'no additional measures' will be needed after state of alarm if pandemic continues like now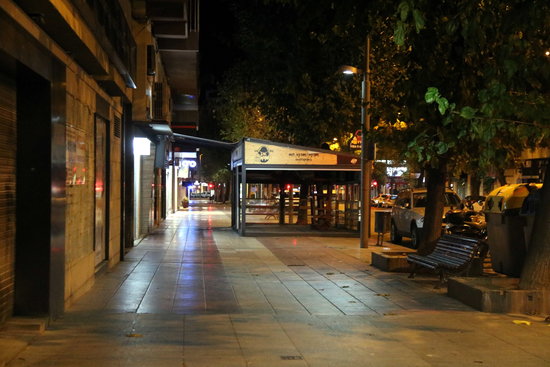 The Catalan government is considering not extending the curfew once the state of alarm is over on May 9 at 12 am.
Spokesperson Meritxell Budó hinted at dropping the measure on Monday morning in an interview with 'Cafè d'Idees' on Ràdio 4 and La2, where she said that if the current pandemic situation remains under control as it is now, "no additional measures" will be needed after the night of this coming Saturday.
"It seems we have the Covid-19 figures stabilized, with a slight decrease, so if all continues like now, it is unlikely that we need to order measures such these," she said, referring to the nightly curfew.
The end of the state of alarm will mean that the Catalan government might no longer have the constitutional authority to pass the measures needed to contain the spread of the virus, because courts could reverse any new restrictions which may curb the freedom of movement, such as the curfew, or control the size of gatherings.
Last summer, with no state of alarm in force, the regional court in Lleida ruled against the Catalan government and overturned a decree imposing a new lockdown on the city, while accusing the regional executive of overstepping its authority.
Decree to potentially enable curfew again
In order to avoid potential blocks by the Catalan high court, the executive is working on creating a regulatory framework that would allow it to enforce Covid-curbing measures beyond May 8 if deemed necessary.
Budó said on Monday that modification to the decree 27/2020 is very likely to be passed on Tuesday in the weekly cabinet meeting.
Although they do not intend to put forward an extension to the curfew, they are "preparing" the legal framework that would enable them to do it – although in any case, the courts will have the final say.
The spokesperson did not say whether other measures would still be in place, such as the closure of borders and the cap on gatherings.
Bars and restaurants to reopen in the evenings
Last Friday, most of the measures in place were extended for six additional days, from Monday, May 3 until Saturday, May 8 – although children's play areas no longer have to close at 8 pm from May 3.
The health minister Alba Vergés also announced on Friday that bars and restaurants will be able to open both indoors and outdoors until 11 pm from this Sunday, the first day after the state of alarm comes to an end in Spain.
Such establishments have only been permitted to offer delivery and takeaway services in the evenings since December 21, 2020, after completely closing for most of spring 2020 and from October 16 to November 23, when on-site dinners were permitted for a month.