Girona and Central Catalonia enter de-escalation Phase 3 as mobility restrictions loosen
Number of public transport users in Barcelona area increases as capital hopeful to progress to last lockdown easing stage within days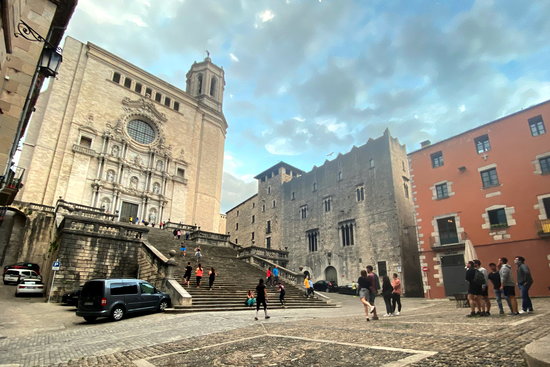 Girona and Central Catalonia health regions entered de-escalation Phase 3 on Monday morning.
They are joining the Tarragona, Ebre and western Catalan Pyrenees health regions in the last stage of lockdown easing, which will end for the whole country on June 21, when the state of alarm comes to an end.
Phase 3 include a larger capacity in all sort of establishments allowed, the opening of pub bars and nightclubs.
Meetings of up to 20 people will be now permitted in these areas, as well as cultural shows and events with audiences of less than 80 indoors and 800 outdoors (seated).
The Barcelona and Lleida health regions are the only ones still in Phase 2, but the Catalan government has requested for them to progress to Phase 3 before this weekend.
The capital's mayor, Ada Colau, insisted on Monday that the city needs to move phase – something already urged by local restaurants associations.
Public transport users going up
Barcelona is progressively going back to normal, and for instance, in the Monday morning rush hour, the number of passengers in public transport had gone up on the previous week.
Until 9am, the number of users in the FGC trains had increased by 10.2% compared to last Monday, although the figure is still 65.5% lower than a pre-pandemic Monday.
As for commuter Rodalies trains, the decrease in demand compared to before Covid-19 is 59.7%, but last Monday this figure was 66.5%.
TMB, the company comprising the underground and buses, said that by 9am some 107,000 people had used its services, some 7% more than last Monday.
Mobility restrictions
Across Catalonia, Monday morning also saw a further loosening of the mobility restrictions: those residing in Catalonia will be able to go anywhere within the country except to, from or through Lleida and Barcelona – until now, mobility was mostly restricted within the health region, except for Tarragona and Ebre regions, where traveling to one another has been allowed since June 8.