What will I be able to do from Monday that I could not do before if I am in Catalonia?
Going anywhere within the country will be possible except to, from or through Lleida and Barcelona, as Girona and Central Catalonia move to Phase 3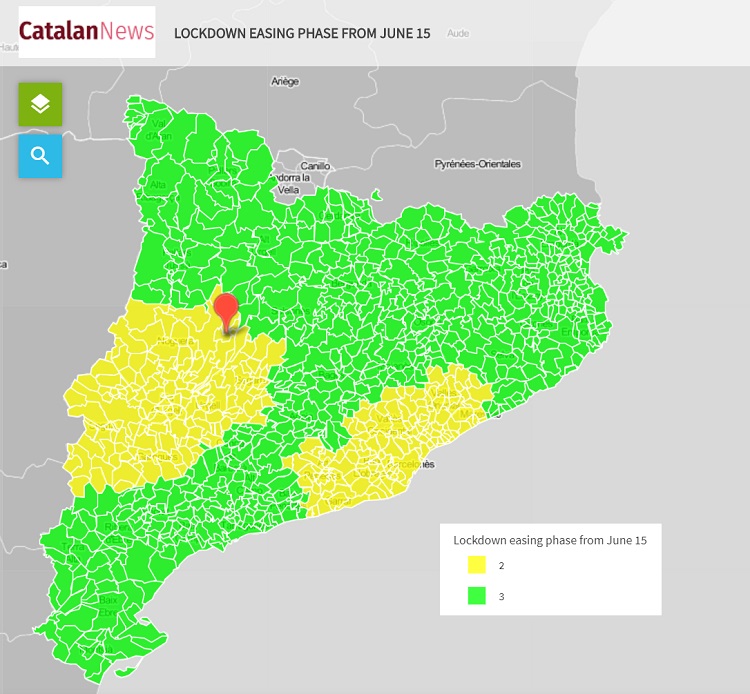 Next Monday is likely to be the last one in which there are different regulations applying in the Catalan health regions based on their de-escalation phase – the state of alarm will come to an end on June 21, and the whole lockdown easing scheme is expected to lose relevance, although the so-called 'new normality' will also carry its rules.
Yet, before that comes, on June 15, most of the country will be in lockdown easing Phase 3, including Tarragona, Ebre, and western Catalan Pyrenees regions, which will be joined by Girona and Central Catalonia.
Meanwhile, Lleida and Barcelona will remain in Phase 2 – although the Catalan health department will consider proposing a phase progression for these regions before next weekend.
The main thing that those residing in Catalonia will be able to do is to go anywhere within the country except to, from or through Lleida and Barcelona – until now, mobility was mostly restricted within the health region, except for Tarragona and Ebre regions, where traveling to one another has been allowed since June 8.
Travel restrictions
Yet, is it possible to travel from the Empordà area, in the north, to the Ebre river, in the south, for leisure, without going through Barcelona? Yes. One of the key roads is the C-25 from Girona to Manresa (going through Vic), and then moving to C-37 towards Igualada, Valls, and the south.
These travel restrictions are expected to be lifted on June 22, or some days before, if Barcelona and Lleida progress to Phase 3.
This is long-awaited for the local economy, as when this exceptionality ends, local tourism across Catalonia could see a boost.
Yet, from Monday, residents still need to follow all regulations of Phase 2 and 3 – here is an interactive map to know what stage any municipality is in.

Here is a quick guide on Phase 2 and Phase 3 regulations.
Phase 2
Phase 2 of the planned transition to the 'new normality' sees a further loosening of lockdown restrictions, as laid out in the Official State Gazette (BOE) published by the Spanish government.
The timetable for doing individual exercise outdoors are more flexible. People under 70 are allowed out at any time, excluding the time slots for elderly people to go for a walk or exercise, which remain unchanged: 10am-12 noon and 7-8pm. Time slots only apply in municipalities with more than 10,000 inhabitants.
In Phase 2, people can go for walks in groups of a maximum of 15.
For non-professional sporting activities, Spain's official gazette published on May 23 announced that group sports could take place across the country, meaning the obligation to practice exercise individually is no longer in place.
During this phase, cinemas and theaters can open to 1/3 of capacity, as can public monuments and other cultural sites.
Cultural events can have a maximum of 400 people outdoors and 50 indoors.
Schools can begin to host some face-to-face activities with students, such as reinforcement activities, preparation for university entrance exams, and ensuring that children under the age of six can go to school if parents have to go to work and have no one to leave their children with.
Restaurants and cafes can open their indoor seating areas, with table service only and with numbers limited to 40% of capacity. Nightclubs can open at one-third of its capacity, but dancefloors will remain shut.
Casinos will be allowed to open at 50% of its capacity.
Weddings are allowed for up to 100 people outdoors and 50 indoors.
The limit on numbers attending funeral wakes is 15 indoors and 25 outdoors; for burials the maximum is 25.
Recreational swimming pools can open up to 1/3 of capacity, but changing room showers cannot be used and safety distancing must always be guaranteed. In addition, doorknobs, railings, and any other places that might be touched frequently, must be disinfected at least three times a day.
Communal areas in hotels and other tourist accommodation can open to 1/3 of capacity.
Congresses, meetings, and conferences can take place with up to fifty people attending.
Shopping centers can open. Capacity is limited to 40% capacity within shops and 30% in communal areas, which are only to be used to pass through, with no loitering allowed.
Professional sports leagues are allowed to resume, behind closed doors and without spectators.
In addition, "full training" is allowed with up to fourteen athletes.
Phase 3
Phase 3 is the last stage in the de-escalation scheme published by the Spanish government, and regional governments like the Catalan one are allowed to regain full control of the areas in this stage.
The Catalan executive will be able to decide when Phase 3 is over and the so-called new normality begins – on Tuesday, June 9, the Spanish government will reveal the rules of this new period that might well end when a vaccine for Covid-19 is found.
In Phase 3, indoor areas of bars and restaurants can operate at 50% capacity, while terraces can operate at 75% capacity. Standing in bars is permitted but with a distance of 1.5 m between customers.
Nightclubs can open and operate at a third of their usual capacity. In the May 30 official gazette it was also specified that bar and restaurant bars will also allow their clients to sit at them too rather than only sit at indoor or outdoor tables.
All rooms of hotels can open from Phase 1, but common areas can open to 1/3 capacity during Phase 2 and 1/2 capacity during Phase 3.
In Phase 3 permitted capacity of shops increases to 50%, as long as a minimum distance of two meters between customers can be guaranteed, and common areas at shopping centers will be able to reopen too.
Also, activities that were previously allowed at 1/3 capacity can now take place at 1/2 capacity.
Performing arts venues and music venues can open at 1/3 capacity. Cultural shows and events can take place with audiences of less than 80 indoors and 800 outdoors (seated). Theme parks can open with up to 800 people.
In Phase 3, cultural activities at libraries will be able to resume, as will leisure activities for children.
In Phase 2 people can meet up in groups of up to 15 people, with the limit of three children per accompanying adult will no longer in place, while in Phase 3 groups of up to 20 people can get together.
Spain's health minister, Salvador Illa, said on June 5 that if Catalonia or any territory requests that mobility be allowed between health regions within the same territory, or comunitat autònoma (in Catalan), he will grant it. Yet, between 'comunitats autònomes', this will have to wait until June 21.