Catalonia urges Spain to force all Catalans to stay home
Catalan interior minister says only exceptions should be for those providing basic supplies and services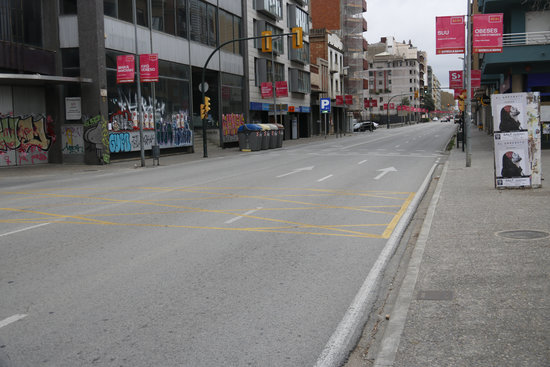 The Catalan government has urged the Spanish government to greenlight a set of orders requiring people in Catalonia to stay home except for those supplying basic goods and services.
"We have asked [the Spanish government] that nobody, I repeat, nobody in Catalonia be allowed to leave home," said Catalan interior minister Miquel Buch in a press conference on Monday afternoon.
He explained that the civil protection emergency meeting decided that citizens should not be allowed to go out unless they have specific jobs including supplying basic products – in any phase from production to delivery to shops –, in emergency services, civil protection, public health, social and funerary services, or providing fuel, gas, or drinking water. Only in these cases would exceptions be made.
All others should remain home without being permitted to leave on foot or by public or private transport, according to the Catalan government.
Yet, these measures need to be approved by the Spanish government, as a state of alarm has been enforced all throughout Spain.
Buch also said that proposed measures include an almost absolute halt to all forms of public transport with only 5% of usual services.
The minister insisted that the demand was not politically motivated, but was "a medical and technical recommendation," and he warned the Spanish authorities that now is not the time for "political and ideological proclamations" but for "real and effective measures."
The Catalan and Spanish governments have shown disagreements over the approach to tackle the coronavirus crisis, with Quim Torra's government asking for a total lockdown in Catalonia and the Spanish cabinet rejecting it and taking over Catalonia's key services after introducing the state of alarm.