Ex Catalan police chief tells court he offered to personally arrest Puigdemont
Trapero expressed his regret at being accused of rebellion, arguing he had no connection with independence push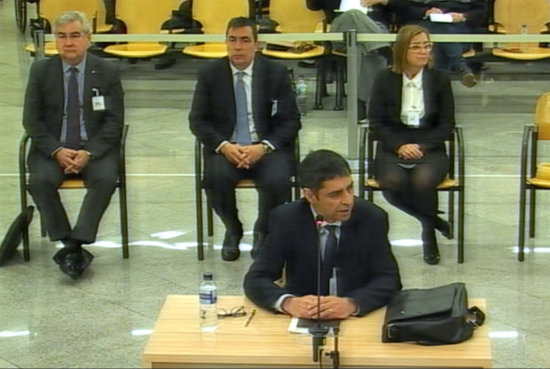 Josep Lluís Trapero offered to personally arrest the former Catalan president Carles Puigdemont following the unilateral declaration of independence, as explained in the Spanish National Court just outside Madrid.
Trapero, on trial facing rebellion charges for his alleged actions among the Catalan police during the 2017 independence push, told the court on his third day of testimony that he offered to detain the ex president in the event of a judge ordering the arrest of the politician. Those orders never arrived, and therefore Trapero nor the police never attempted to carry out the detention of the now exiled former Catalan government executive.
During his trial session he also explained that the magistrate of the Catalan high court, Mercedes Armas, emphasized that the three police forces (Catalan Mossos d'Esquadra, Spanish Guardia Civil, and Spanish National Police) had to act in accordance with one another on the day of the referendum.
The former police chief also expressed his regret at being accused of sedition and rebellion, as he outlined that he never had any connection with Catalonia's push for independence.
Regarding the protests in front of the Catalan economy department building on September 20, 2017, Trapero told the court that all the requirements that Spanish colonel Ferran López made to him were met, and that the pair shared 40 calls with each other throughout the day.
Josep Lluís Trapero also stressed that mediation was always prioritized on the day of those protests, as had been the model followed by his forces since 2013.
In total the public prosecutor's cross-examination of the ex police head lasted over eight hours, with his own defense lawyer questioning him in the following stage.