Easter week sees Catalans traveling at almost pre-pandemic levels
Barcelona airport will see over 8,000 flights over the long weekend while train operators offer half a million seats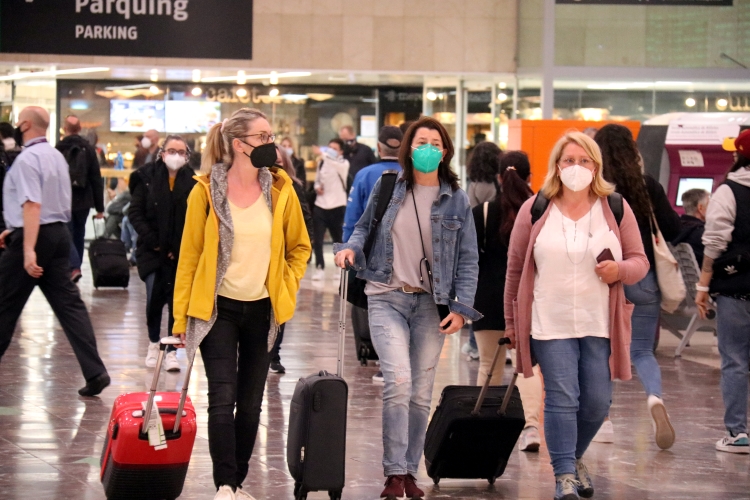 Catalonia is recovering its traveling spirit after the last two years were restricted by the Covid-19 pandemic. On Thursday, thousands of Catalans will travel abroad or across the territory for the first bank holiday of long Easter weekend.
On Thursday alone, Barcelona airport will see 848 flights come in and out, 76% compared to 2019's Maundy Thursday, the last held before the pandemic. The number is lower than pre-pandemic levels, but far higher than 2021's 180 operations.
Thursday will see the second-highest number of flights come in and out of the facility, as on Friday there will be 872.
"It's good to see so many people leaving, while at the same time a lot of tourists return to Barcelona," Federico, traveling to the Spanish town of Jerez with his wife and three sons, told to the Catalan News Agency (ACN).
"We all wanted to travel and do things, as until now we did not have any normality," he added. His 40th birthday trip was postponed due to the pandemic and the birth of his small child.
Some young Catalans are also looking forward to traveling abroad for the weekend such as Arnau, flying to London to visit his sister. He is keen to recover the number of trips and holidays he used to do before Covid.
On the other hand, Anna, from the inland town of Tàrrega has not flown since March 2020. "I feel like I'm new to this," she said to ACN ahead of her trip to Amsterdam. She returned from Germany where she was doing her Erasmus studies before the pandemic started. Since then, she preferred road trips but she explained that she was ready to travel further again.
Catalans will also be traveling by train during the Easter holidays, as the Spanish public train operator RENFE and French operator SNCF, with its OUIGO brand, have offered over 500,000 seats.
While the Spanish company are making trips with 400,000 seats available, between April 8 and 18, and 160,000 between Thursday 14 and Monday 18, the French group have put 100,000 trips on sale over this period of 10 days surrounding Easter.
Among those traveling is Indira Luciano, who is enjoying a 15-day trip to Spain with her friend. After visiting Barcelona, they are going to Madrid, before finishing in Seville. "Our previous trips were for work, so it has been a while since our last fun trip," Luciano said.
Marta is another example of a young traveler using rail to travel, in this case to the northern Valencian town of Vinarós. She will then go to the northern Spanish city of Logroño in La Rioja and then to Pamplona in Navarre, before returning to the Catalan capital. "This winter has been a little bit longer, I hope we can go out as before," she explained.
The car is still one of the most popular methods of transport for short-term holidays such as the long Easter weekend, when people travel across the territory. Figures released by Catalonia's Traffic Service show that up to 370,000 vehicles are expected to leave the Barcelona metropolitan area between Thursday afternoon and Friday before 3 pm.
The traffic office expects over 570,000 cars to return to the Catalan capital and the neighboring cities between Sunday and Monday. These figures are similar to those before the Covid-19 pandemic, experts say.
However, during the first hours of Thursday, five car accidents on the AP-7 highway have caused several traffic jams. Overall, there have been more than 45 kilometers of queues at several points of the highway.
This Easter week is the first one since highway tolls were lifted on August 31, 2021. To avoid any complications, the traffic office have prepared several plans, including placing up to 1,130 Catalan Mossos d'Esquadra police checkpoints across Catalonia.