More traffic on highways a week after tolls lifted
Major gridlock last Sunday as holiday goers returned home, with officials describing it as "exceptional"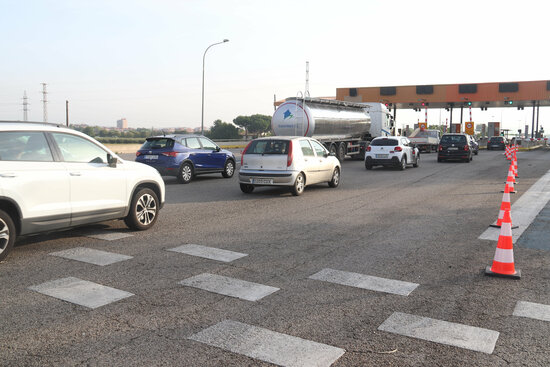 The lifting of tolls on four major highways in Catalonia was widely expected to lead to an increase in traffic, as drivers who previously opted for cheaper routes could suddenly use high-capacity roads for no extra cost.
A week later, drivers are happy to use the highways despite the increased number of vehicles, but some are surprised at just how significant this has been at rush hour.
This became most notable last Sunday, on the first weekend without tolls on the AP-2 and AP-7 motorways connecting Barcelona with the capitals of Girona, Tarragona and Lleida, as well as Spain's Aragon region and France as well as on the C-33 and C-32 highways, north of the Catalan capital.
According to Òscar Llatje, the coordinator of mobility and security at Catalonia's Traffic Service, there was more congestion from noon to midnight, as many holiday goers returned home after the weekend, peaking at 7 pm.
Traffic was 8% higher than the same day in 2019, the last year before the pandemic disrupted regular mobility flows. The increment is even larger considering that traffic is still down by 8% from 2019. Llatje calls this surge in traffic "exceptional."
The increase in road congestion was coupled with more car accidents. Traffic jams caused by car crashes increased by 93% from 2019, and those caused by car breakdowns rose by 60%.
Llatje blames the rise in accidents on "bad luck," and says that while measures will be taken to prevent accidents on roads where tolls were lifted, there's not much that can be done to contain the increase in the number of vehicles.
A driver on the AP-7 highway, Conchita Pérez, said that the first time she drove through the empty toll booths she felt "moved." "I could buy a new car right away with all the money I've spent on tolls through the years," she said.
Toll-free roads surpass toll highways
The lifting of tolls on four major highways, accounting for 556 kilometers, on August 31, represented a historic shift for Catalonia: for the first time in decades, the number of kilometers of toll-free roads surpassed those of toll motorways.
With Spain having the most extensive high-capacity road network in Europe, stretching over 12,000 kilometers, Catalonia has long been the territory with the highest number of toll highways, over half of its 1,719 kilometer-network—something that many locals saw as an economic grievance and that led to decades of protests.
Last Tuesday, as the barriers at a number of tolls were lifted for the last time, grassroots organizations that fought for their demise rejoiced and held celebrations all across Catalonia.