Barcelona airport sees 40% fewer passengers in February compared to pre-pandemic
2 million passengers and over 50,000 flights at El Prat, both less than in 2019, but up significantly on 2021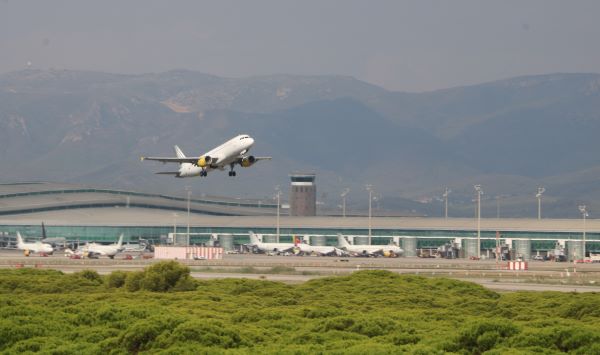 Barcelona airport ended February with 1.98m passengers, a 39.3% decrease next to the figure from the same period in February 2019, according to data published on Monday by Spain's airport authority, Aena.
However, this same amount represents a nearly 600% increase on last year, given much of Europe still being in lockdowns at the time.
Another way of measuring the airport's activity is by looking at flights departing from and arriving at El Prat, of which there were 15,247 - once again a significant increase on last year, but still 32.8% less than in 2019.
Barcelona remains the city with the second busiest airport in Spain by number of passengers and flights, only behind Madrid Barajas with around 2.9 million passengers in February, but in front of Gran Canaria airport in third with just under 900,000.
Elsewhere in Catalonia
Catalonia's second busiest airport in terms of passengers, Girona-Costa Brava, although expectedly had nearly half as many travellers compared to February 2019, actually saw a 70% increase in flights coming and going.
Reus airport, which receives the third most passengers in the territory, followed the nationwide trend of lower riders compared to 2019, also was down on last year.
In terms of incoming and outgoing flights, it is marginally larger than Girona, with 10 more flights in February, but this statistic remains relatively unchanged compared to last year and 2019, with the change not varying by more than 5%.
Airport authorities hope to recover pre-pandemic travel figures by 2024, a goal which is looking more and more possible, given the significant rise in airport activity compared to 2021, and the fact that passenger numbers in 2021 were already 48% higher than those in 2020.
However, the potential expansion of the Barcelona El Prat facilities, is a hotly contested issue in the Catalan capital.
Plans to build a new satellite terminal and extend one of the existing runways were shelved in September following disagreements between Spanish and Catalan authorities.
This was celebrated by environmentalists, who were concerned with how construction would impact the La Ricarda lagoon nature reserve area, as well as neighborhood housing organizations that are against mass tourism.
Filling the Sink podcast
Catalan society and local authorities remain divided on the expansion of the facility, with business leaders arguing it is essential for the economy and environmentalists warning against the potential destruction of the Llobregat delta as well as increased carbon emissions.
Press play below to listen to Catalan News' Filling the Sink podcast episode, released on July 10, before plans were suspended, on the debate surrounding the Barcelona El Prat airport.