Covid-19 transmission rate falls below 1 for first time since June 22
New daily cases continue at around 1,000 and outbreak risk high ahead of National Day and reopening of schools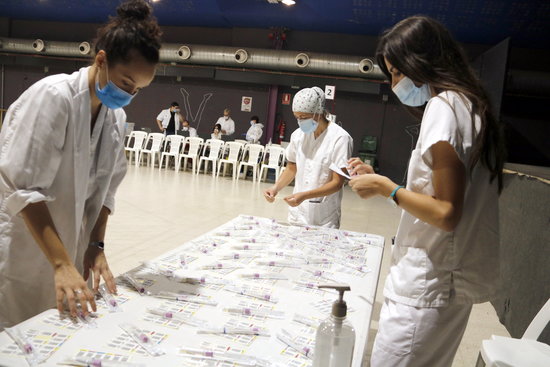 Every person diagnosed with Covid-19 is transmitting the virus to less than another person on average at the moment – this was the aim of the Catalan authorities ever since on June 23, when this figure surpassed 1.
On Thursday, the Rt fell to 1.00, and on Sunday, this variable decreased to 0.98, complying with the authorities' best scenario for the first time in two and a half months – the trend continued on Monday, when the Rt was at 0.96.
Over the summer, the transmission rate peaked at 1.81, as authorities introduced new restrictions to prevent the spread of the pandemic.
"Today we managed that the Rt is 0.98 across the country! Thank you very much for this spirit of solidarity that you are all showing," emphasized the Catalan president, Quim Torra, on Twitter on Sunday.
Yet, he also reminded that the pandemic is not over and that Catalonia is facing a key moment. "But I ask you for a last effort: the academic year starts in a week's time," he said, reminding some of the measures to fight the virus, including a ban on social gatherings of over 10 people.
Two weeks ago, Torra had warned of three key weeks to flatten the curve ahead of the reopening of schools on September 14 and the return of a lot of employees to their workplaces after the summer break.
And while the transmission rate is going down, the new daily diagnoses is still around 1,000 – the figure is stable since July, and despite the efforts of the health department, including targeted mass screenings, levels are not falling to the levels of June, when some 200 new cases were declared every day.
The outbreak risk continues far higher than what authorities would like to see: at the moment, the ratio is 174.96, in a downwards trend compared to the peak of 200 reached in late August, but still well over the threshold of 'high', at 100.
National Day
Another highlight of September in Catalonia is the National Day. Since 2012, a mass pro-independence demonstration has been held every September 11, but the pandemic has forced a change of plans this year.
The civic organization ANC, in charge of the event every year, has given up a single mass rally, and has called on the public to protest in around 100 separate small demonstrations across Catalonia, with a maximum number of attendees in total of 48,000.
Yet, taking into account the current health situation, the protest has drawn criticism and some epidemiologists have suggested for the event to be called off.
Spain surpasses half a million cases
On Monday, Spain became the first European Union member state to surpass half a million coronavirus cases, after figures released by Spanish authorities added another 26,560 new diagnoses since Friday, totaling 525,549.