Catalonia records highest daily rise in Covid-19 cases of the second wave
A further 2,759 cases were confirmed on Sunday, bringing weekly total higher than any period of first wave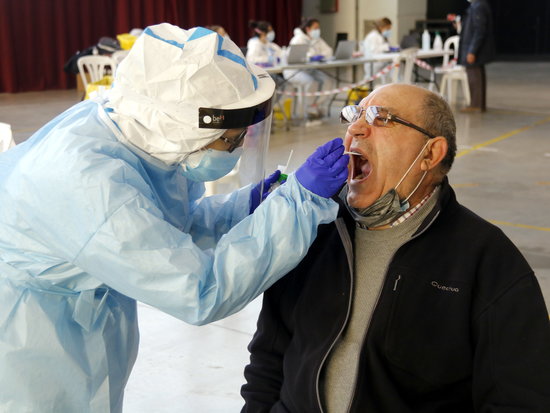 Catalonia has recorded 2,759 new Covid-19 cases on Sunday, the highest daily rise seen during the second wave of the pandemic.
This figure comes after Friday's 2,716 - the highest daily number of the second wave at that point - and Saturday's 2,710.
These figures are only surpassed by the numbers recorded on April 15, when 2,870 cases were reported.
The past week has seen 14,846 new coronavirus positives in Catalonia confirmed by PCR test.
For full details on daily new cases, deaths, hospitalizations and more, click here.
Sunday also saw 16 further deaths from the disease, bringing the weekly total to 103 - a figure significantly lower than during the first wave, although much higher than during June and July.
The outbreak risk, which calculates the risk of potential growth of the virus, has skyrocketed in the past couple of weeks. The 'high risk' threshold is 100, 'very high risk' is 200.
Two weeks ago, on October 4, the figure stood at 197.56. On October 11, the outbreak risk was 311, while on October 18 it is now at 406.93.
New measures
Earlier in the week, the Catalan government implemented the strongest set of measures to combat the spread of the pandemic seen since there was a total lockdown last spring.
One of the most impactful of the restrictions is the closure of bars and restaurants, which can only offer takeaway and delivery services.
Elsewhere, the capacities of shops, gyms, cultural events, and more have been limited.
On Sunday, the health department also announced that self-detection Covid-19 tests to elderly care homes and schools to improve coronavirus screening.