Catalan president promises revised eviction protocol as housing activists occupy party HQ
Pere Aragonès faces pressure from grassroots movements on first day in office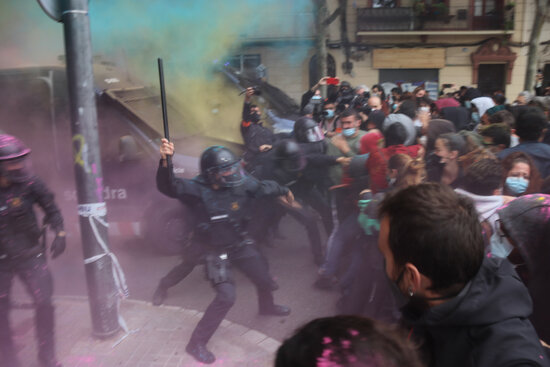 The newly-elected Catalan president, Pere Aragonès, has promised a new eviction protocol after housing activists occupied the headquarters of his political party, Esquerra Republicana, in Barcelona on Tuesday to demand that riot police no longer be used to force people out of their homes.
Around a hundred activists gathered in the Poble Sec neighborhood of Barcelona earlier in the morning, where riot police were sent by a judge to carry out an eviction.
"When it is up to us, we are sure about the fact that riot police must not attend, but this was a judicial decision," Aragonès said.
The new head of government called on the judiciary to get involved in the decision to avoid sending riot police to evictions.
Tension between protesters and riot police
Protesters threw objects and paint at the officers, leading to some tense situations, with agents using batons to disperse the crowd.
There were also members of the far-left CUP party, the pro-independence party that helped Aragonès become president but did not end up in his cabinet, in the crowd.
"The lives of citizens are not made easier, more comforting or happier by sending riot police to evict them, but rather by ensuring that the right to a home is respected," tweeted CUP MP Laia Estrada, with the far-left party urging Aragonès to abide by the political agreement reached to appoint him, which included insisting that riot police no longer be used to evict vulnerable people.
Local activists explained that the eviction at 38 Carrer de Lleida street, in Barcelona, took place at a building that used to be social housing, but was then bought by a so-called "vulture" fund called Vauras Investment which has been kicking residents out in order to reform the flats and resell them "at an exaggerated price."
They stressed that the deal between Aragonès' Esquerra party and far-left CUP included an agreement to not send riot police to evictions of people who can prove that they are vulnerable, which was the case on Tuesday.
The judge that ordered Tuesday's eviction rejected social workers' reports recognizing the 28-year-old man who had occupied the apartment in Poble Sec as "vulnerable," alleging that he lives alone, has no health conditions, and could be supported by his relatives.
Housing crisis
The housing crisis and the ongoing debate concerning the role played by police at evictions are two of the most pressing challenges faced by Aragonès, who was officially sworn in as head of the government on Monday after being voted in by pro-independence lawmakers on Friday.
The new government will be sworn in on Wednesday, with Esquerra holding heading the interior ministry, which is in charge of the Catalan police and public order, for the first time. Joan Ignasi Elena, a former Socialist official, will lead the department.
Aragonès has stated that his new cabinet needs a number of days to settle in since the new ministers have not yet been officially sworn in.