How the new Catalan cabinet under Aragonès will look
The 132nd head of government will preside over 14 ministries, seven for each of the coalition partners ERC and Junts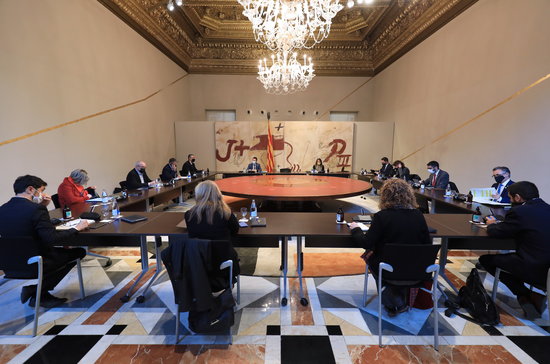 After Pere Aragonès was appointed as the 132nd president of Catalonia on Friday, May 21, details of his cabinet have slowly been released.
His party, Esquerra Republicana, will lead seven of the ministries involved, as will coalition partners Junts per Catalunya, forming a total of fourteen departments. Only two ministers from the old cabinet will repeat this term and a spokesperson is yet to be designated.
Pere Aragonès said his executive will seek transformation in four main domains: socially, environmentally, in terms of women's rights, as well as a "democratic revolution" on the road to independence.
Splitting from Spain will be a priority after over 50% of the ballots in the February 14 election went to parties in favor of establishing a Catalan republic. Both parties agreed on the need to achieve "an amnesty and self-determination via dialogue and negotiations as well as civic and pacific confrontation" with Spain.
"It is important to take advantage of the independence movement garnering over 50% of the vote," said Aragonès.
So, how will the new cabinet led by Pere Aragonès look?
Ministries led by Esquerra
Presidency - Laura Vilagrà: self-government, sport, public administrations, local councils, office to consider a universal income
A professional swimmer from Santpedor, in Bages county, Vilagrà became Catalonia's youngest mayor at age 27 before becoming an MP in Catalan parliament at age 30. Vilagrà was the second person on ERC's electoral list on February 14 and replaces JxCat's Meritxell Budó as presidency minister.
Interior - Joan Ignasi Elena: police, civil protection, firefighters, road safety.
The former mayor of Vilanova i la Geltrú and former coordinator of the National Pact for the Referendum ahead the 2017 independence push, Joan Ignasi Elena will be the next interior minister, replacing Miquel Sàmper of Junts in the post. Elena was formerly a member of the Socialists but resigned from the party in 2014 over disagreements over independence and joined ERC.
Education - Josep González Cambray: primary, secondary school system
González Cambray, the director-general of public schools during the last term, succeeds Josep Bargalló as Catalonia's education minister. Cambray was one of the people in charge of bringing early childhood, primary and secondary school students back to the classroom for in-person learning during the 2020-2021 academic year.
Feminism - Tània Verge: Catalan Institute for Women, equality policies, Civil and Political Rights office
Tània Verge, one of the 2017 referendum electoral board members, will be the first minister of feminism in the next Catalan government. Verge was acquitted in her trial in April, along with other referendum board members, after having been accused of disobedience and overtaking of public office. Esquerra Republicana has opted for the professor of Political and Social Sciences at UPF, where she is also director of the Equality Unit, to lead one of its star ministries that was announced during the election campaign and which was put as an indispensable condition in the negotiations with JxCat.
Culture - Natàlia Garriga: Catalan language and culture, heritage, libraries
A close confidant of the new president, having worked with Aragonès as director of vice-presidency services of the Catalan government, Natàlia Garriga will be the new culture minister in a department recovered by ERC after many years. The new minister was born in 1969, has a degree in law from the University of Barcelona (UB), a master's degree in management at the School of Public Administration of Catalonia, and a postgraduate degree in accounting for lawyers from the Faculty of Business University of Barcelona. Garriga has worked as a professor at the Open University of Catalonia (UOC), In 2007, she was the manager of the Catalan Institute of Cultural Enterprises, a position she held until 2016.
Business and labor - Roger Torrent: business, competition, and work policies.
Former parliament speaker Roger Torrent will be the next minister for business and labor. New in this term, this department is a merger of the previous two ministries of business and labor. Pere Aragonès wants the office to address the economic and social reconstruction needed in the wake of the pandemic. Torrent will replace the current ministers Ramon Tremosa (Junts) and Chakir El Homrani (ERC) with this post.
Whether he will be able to head the new department for the entire term remains to be seen as Catalonia's high court is investigating him for allowing lawmakers to vote against the Spanish monarchy and in support of Catalonia's self-determination in the fall of 2019. This could carry a conviction for disobedience, which could see him barred from public office.
Climate Action - Teresa Jordà: environment, sustainability, power, water, food, waste policies, as well as the current agriculture, fishing, and livestock ministry
Teresa Jordà, agriculture minister under former president Quim Torra from June 2018, continues on in the department that will now also focus on combatting climate change. Jordà, who hails from Ripoll in northern Catalonia, was the town's mayor from 2003 to 2011 before becoming an MP in Spain's Congress.
Ministries led by Junts
Vice President and Minister for Digital Policies and Infrastructures - Jordi Puigneró: digital policies, infrastructures, mobility, urban agenda
Jordi Puigneró will be the new vice president of Catalonia. With his appointment to the role, JxCat places him at the top of the Government's organizational chart, after other politicians such as Elsa Artadi declined the position. Puigneró is considered close to party leader Carles Puigdemont as well as the general secretary and person overseeing the negotiations, Jordi Sànchez. Puigneró will also remain as minister for digital policies, while responsibility for infrastructures is added to his department, coming from the now abolished Ministry of Territory and Sustainability.
Economy - Jaume Giró: budget, Catalonia-managed taxes, finance, treasury, gambling.
The former Caixabank CEO Jaume Giró will be the next Catalan economy minister, despite not being a member of Junts per Catalunya, replacing the newly appointed president Pere Aragonès in the role. Normally, the economy minister also doubles up as a vice president, but this will not be the case in the coming term. Giró was CEO of the Catalan-born bank when it was called La Caixa from 2009 to 2011, and went on to be deputy CEO when it was reorganized to Caixabank. Giró had also been in charge of the financial institution's foundation, Fundació La Caixa. In 2020, he launched a reputation and strategy consulting firm, Giró Consultants, and was also the editor for an online news outlet, The New Barcelona Post.
Health - Josep Maria Argimon: health centers and professionals
Argimon has come into the public eye over the past year as part of the press conferences informing the public of the latest updates relating to the pandemic. He has held the post of general secretary of public health in Catalonia's health system and will now be promoted to the role of health minister after being elected by Junts per Catalunya despite not being a member of the party.
Foreign Affairs and Transparency - Victòria Alsina: foreign action, relationship with EU and Mediterranean, cooperation, transparency, open data.
The former delegate of the Catalan government in the United States and current co-coordinator of the Catalonia 2022 working group, Victòria Alsina, will be the next minister of foreign affairs and transparency. Professor and academic director of the Center for Science and Urban Progress at New York University and chief researcher of the Governance Laboratory (The GovLab) at the same university, the new minister also earned a doctorate of Political and Social Sciences at University Pompeu Fabra.
Justice - Lourdes Ciuró: justice, historical memory, religion, prisons
Ciuró takes over from another woman, Ester Capella, as head of the ministry of justice. A lawyer by profession, she will be in charge of the department when the Spanish government decides whether to pardon the jailed independence leaders convicted of sedition for the October 2017 referendum. Born in Reus and living in Sabadell, she was an MP for Convergència (CiU) from 2011, before eventually joining Carles Puigdemont's Junts per Catalunya party.
Research and Universities - Gemma Geis: research (also including health research), universities
Gemma Geis was number one on the election list of Junts per Catalunya in Girona for the last elections and in 2017. She is a close confidant of former president Carles Puigdemont as well as being a professor at the University of Girona where she received her doctorate in law. She will lead a ministry that is being revived after 15 years and that was born in the remodeling of the current department of business, which now includes labor.
Social Rights - Violant Cervera: social affairs, rights of children, teens, and youth
Violant Cervera has a degree in Hispanic Philology from the University of Lleida (UdL), and served as an MP between 2012 and 2017 first with Convergència (CiU) and then with electoral alliance Junts pel Sí. In the last election, she was 14th on the list for JxCat in Lleida and was not elected. She will be in charge of a new department that comes from the reformulation of the previous department of labor, social affairs, and families.