CUP preliminary deal sees ERC's Pere Aragonès move closer to Catalan presidency
Far left party's support is first step in being able to reach a three-party pro-indy pact before Friday's deadline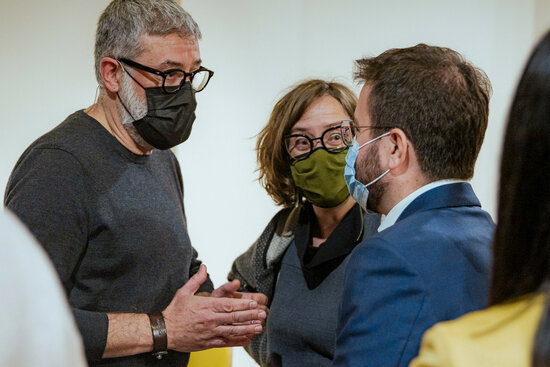 Two pro-independence parties, Esquerra Republicana (ERC) and the far-left CUP, have this Sunday evening finalized a preliminary agreement to elect ERC candidate Pere Aragonès as the next president of Catalonia.
After weeks of negotiations involving ERC, CUP and Junts per Catalunya (JxCat), this is the first step towards an agreement between all pro-independence parliamentary forces that would allow the chamber to choose a new leader before the deadline of Friday, March 26.
Negotiations on still ongoing and talks are expected to continue through the coming week.
Following the agreement to elect JxCat's Laura Borràs as parliament speaker, Sunday's deal adds pressure on that party, led from exile in Belgium by former president Carles Puigdemont, to join.
CUP members will have their say on the preliminary agreement in an online assembly and vote, with the results to be made public on Thursday, March 25.
What's in the deal?
The two parties have agreed that the "housing emergency" requires urgent action and, in the medium term, changes to the housing model. They also want to change the protocols on evictions involving vulnerable people.
Regarding health, with the next term sure to be dominated by Covid-19 and its effects, ERC and CUP express the sire to strengthen primary care and place it "at the center of the public health system." They have an agreed aim to spend 25% of the health budget in this area.
As well as broader changes to policing and public order in the form of a parliamentary review, the parties want to suspend the use of foam bullets by the Mossos d'Esquadra (Catalan police). A 19-year-old woman in Barcelona lost an eye to a foam bullet during protests in February.
The two parties say they are committed to "preparing the necessary conditions" during the next term to carry out a "new democratic onslaught, preferably in the form of a referendum", while ERC maintain their commitment to negotiations with the Spanish government for a democratic resolution for Catalonia.