Barcelona residents call for better public healthcare system
Neighbors argue government recognizes a service quality loss but do not act on it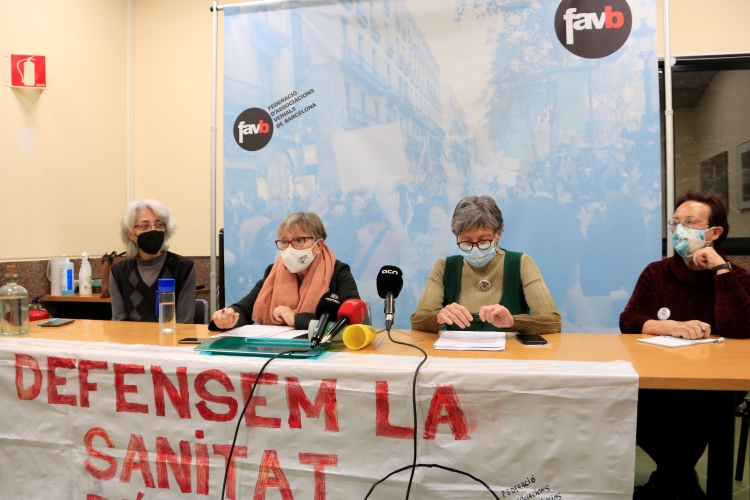 The Federation of neighborhood associations in Barcelona (FAVB) has warned the Catalan government that the public healthcare system is losing quality and "prestige."
At a press conference on Wednesday, FAVB members urged politicians to make a "strong commitment" to strengthen the system. Barcelona residents have already sent a letter to the Catalan president, Pere Aragonès, but they have not received any answer so far.
The federation has also complained about Catalan health minister Josep Maria Argminón's words.
Recently, Argminon said that more and more citizens in Catalonia have private medical insurance as, in the last four years, the figure has increased from 25% to 32%, despite data from Catalan News showing 40.6% of the population has medical insurance. The minister also recognized that the public health system is losing quality.
"Residents cannot tolerate the discredit to the public health system, and that the minister is not making sure that the population receives the treatment they should get with the public health system," said Corina Albir, from the FAVB health committee.
"We have tried to reach, by all means, the public administration. We are available to speak with them whenever they want, but it is also important to explain our position," FAVB member Marta Carrera, announced.
They argue that neighbors have not sounded the alarm during the pandemic as the "situation was complicated, and despite it is still difficult we cannot be quiet anymore," Carrera said.
Some of the demands from residents are to improve primary care center access, increase in-person visits, and get rid of people waiting outside.
The neighbors from Barcelona called for the Catalan health ministry to spend at least 25% of its budget on primary healthcare.
How does the healthcare system work?
Anyone living in Catalonia can access the public health system, regardless of residency status.
That said, higher-income foreign residents who are not registered in the Spanish social security system are only entitled to basic CatSalut coverage, including Covid-19 vaccinations.