Barcelona council 'ready' to meet with 'top manta' vendors
City representatives will soon sit with illegal street sellers to discuss their claims of "persecution and repression" by local authorities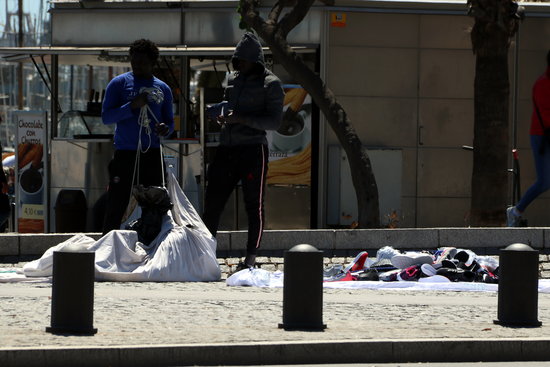 Barcelona city council will soon meet with representatives of the city's 'top manta' street sellers, who demonstrated on Friday against the police patrols launched by the city last Monday with the aim of bringing the illegal pavement trading to an end.
The city's deputy mayor in charge of ecology and urbanism, Janet Sanz, explained on Monday that the local authority is "ready" to meet with the street sellers, but she also called on the Catalan and Spanish governments to take an active role in the conflict.
Many of the street sellers marched through the city center on Friday to protest the council's "persecution and repression," after a special unit of police officers began daily patrols of city areas popular with the vendors, such as the seafront.
Also on Friday, the council announced a new campaign called 'Buy legal', which aims to promote local stores and to dissuade consumers, especially visitors to the city, from buying illegal products from the street sellers.
The vendors, named after the word for blanket ('manta') referring to the coverings they place on the ground to display their wares to passers-by, accuse the city council of going back on promises it made to "resolve the issue positively with social projects."
On Monday, Sanz stressed: "For us, as a government, this is a central issue, as we are talking to people who are insisting on their rights," and she added that the city council would deal with the issue by taking its "social and employment" aspects into consideration.