Barcelona's 'top manta' vendors protest 'persecution' by city council
Irregular street sellers demonstrate on Rambla in response to crackdown by local authority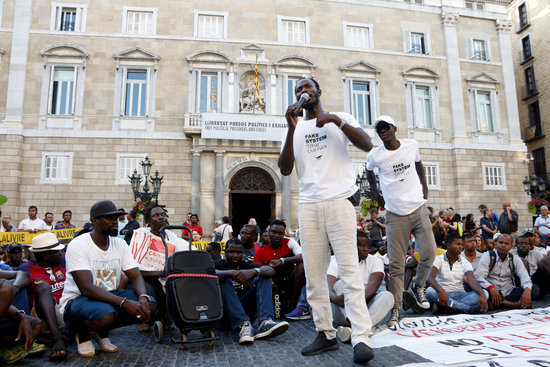 Hundreds of Barcelona's irregular street vendors responded to the city council's new crackdown on the practice known as 'top manta' with a demonstration on Friday evening in the city center.
Beginning at 6:30 pm at Barceloneta and finishing up at Plaça Sant Jaume in front of the Barcelona city council and Catalan government headquarters, the demonstration condemned the council's "persecution and repression" of the vendors.
The crowd chanted "Nobody is illegal," "Surviving is not a crime," among other slogans fighting for their rights to work safely in the city.
Since the beginning of the week, a special unit of police officers has patrolled areas of the city popular with the vendors, such as the seafront, to prevent the sellers from setting up shop.
On Friday, the council also announced a new campaign called 'Buy legal' to promote local stores and to dissuade consumers, especially visitors, from buying illegal products.
The Popular Union of Street Sellers, which represents the irregular vendors, said the protest was "against the criminalization and repression" of its members.
The 'top manta' sellers - 'manta' means blanket and refers to the coverings they place on the ground to display their wares - argue that it is their only way to make a living.
A spokesman said the sellers feel "betrayed" by the city council, which he claimed had pledged to do "everything possible to resolve the issue positively with social projects."