50 Catalan police officers under investigation over handling of last October's riots
Mossos d'Esquadra head defends police officers as "mostly passive and defensive"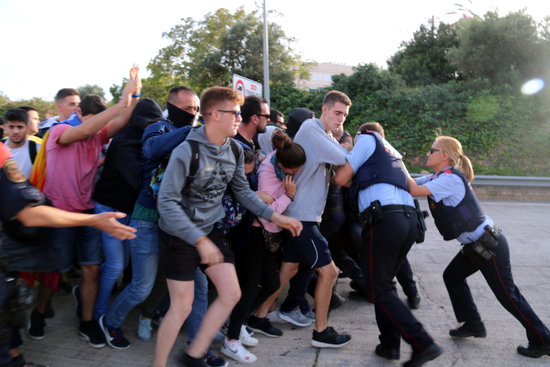 A total of 50 Catalan police officers are under investigation for their role during the protests that erupted in Barcelona and other major cities last October, following the sentencing of Catalan independence leaders.
The officers are under scrutiny in 34 separate investigations, half of which are being handled by judicial courts, and the other half are internal investigations by the Catalan police.
Eduard Sallent, the head of Catalonia's own police body, the Mossos d'Esquadra, defended how officers dealt with the week-long altercations, stressing that their attitude was "mostly passive and defensive."
On Monday, Catalan police officials and the interior minister of the Catalan government presented the conclusions of an internal audit to assess whether officers went too far to stop altercations.
The Mossos, along with the Spanish police, came under severe criticism by human rights groups for the "excessive use of force" when dealing with the protests.
The week-long altercations left around 600 people injured, more than half of which were civilians. More than 200 people were arrested.
"We made our red lines clear"
"We knew that a condemnatory and severe sentence would cause an important mobilization by a large part of the Catalan society. And we knew that according to the principles of congruence, opportunity and proportionality the most reasonable thing was to be tolerant and permissive with peaceful protests," said Sallent. "From the beginning, we made our red lines clear, we made clear what would be permitted and what not".