24 people used the euthanasia law in Catalonia to end their lives in the last six months
Public health authorities received over 50 requests, the vast majority coming from primary care centers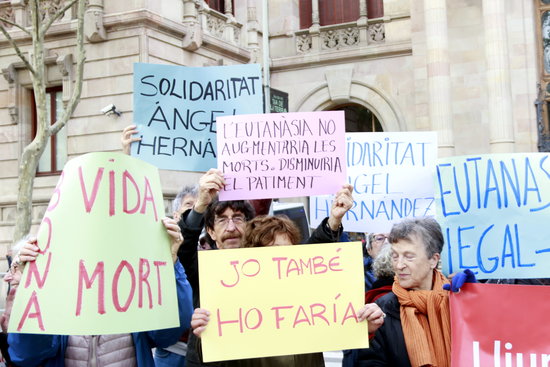 The Catalan government introduced the mechanism to request assisted suicide and euthanasia in June 2021. Since then, 24 people have used the euthanasia law in Catalonia to end their lives.
Catalan health general secretary, Meritxell Masó, announced on Thursday that they "have received 53 requests" until November 30, the vast majority coming from primary care centers. In total, 28 of them have been approved by officials, with four yet to be carried out.
Currently, 14 other requests are being studied, three have been declined, and six people died before their application was reviewed. Health authorities said that 14 are cancer patients and 23 have neurodegenerative diseases.
The requests are reviewed by the Catalan Guarantee and Evaluation, a new body created after the law was passed. The committee can also facilitate information regarding the process and requests.
Around 12,000 people have been trained since health authorities launched specific and voluntary courses regarding euthanasia and assisted suicide.
Azucena Carranzo, a senior health official, said that "healthcare teams have done a great job since day one and have our utmost respect." The Catalan health ministry "understands how difficult dealing with these requests are" and has already spoken with doctors and nurses to "give emotional support if requested."
Spain euthanasia law passed in March 2021
Spain's Congress legalized euthanasia and assisted suicide on March 2021, with 202 MPs voting in favor of the law, 141 positioning themselves against it, and another 2 abstaining. Of the 48 MPs from Catalonia, 44 supported it.
With this vote, the lower chamber has approved the Senate's amendments to the bill Congress had approved in December.
All parties except for the conservative People's Party and the Navarrese People's Union as well as far-right Vox backed the law right-wing groups have already pledged to repeal as, in the words of far-right MP Lourdes Méndez Monasterio, it puts people's lives "in the hands of the state."
This makes Spain the sixth country in the world after The Netherlands, Belgium, Canada, Luxembourg, and Colombia to allow chronically ill patients to choose to end their lives.
María José Carrasco and the case that shocked Spain
The issue of euthanasia and assisted suicide was forced into the limelight in April 2019 when it transpired that Ángel Hernández had helped his wife with severe MS, María José Carrasco, end her life.
Carefully documenting their story, Hernández set up a camera in their living room and asked her if she wanted to go ahead with the plan. After Carrasco stated that she did, Hernández placed a glass containing a fatal substance and a straw in front of her.