Spain legalizes euthanasia and assisted suicide
Congress ratifies Socialist proposal following push from regional parliaments and activists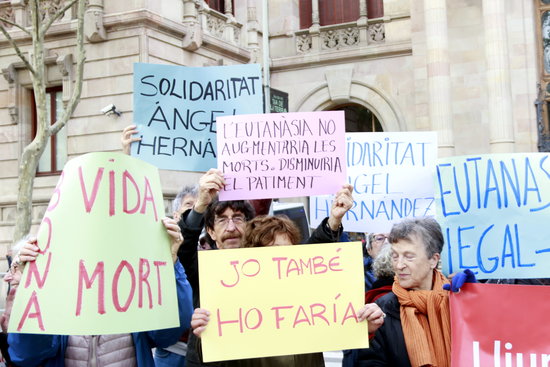 Spain's Congress has legalized euthanasia and assisted suicide once and for all with 202 MPs voting in favor of the law, 141 positioning themselves against it, and another 2 abstaining. Of the 48 MPs from Catalonia, 44 supported it.
With this vote, the lower chamber has approved the Senate's amendments to the bill Congress had approved in December.
All parties except for the conservative People's Party and the Navarrese People's Union as well as far-right Vox backed the law right-wing groups have already pledged to repeal as, in the words of far-right MP Lourdes Méndez Monasterio, it puts people's lives "in the hands of the state."
This makes Spain the sixth country in the world after The Netherlands, Belgium, Canada, Luxembourg, and Colombia to allow chronically ill patients to choose to end their lives.
Socialist bill and regional initiatives
Spain's move to legalize euthanasia and assisted suicide comes after a proposal put forth by the Socialists, which was greenlighted in February 2020, as well as a push from regional parliaments such as Catalonia's with the help of activists.
Catalan health minister Alba Vergés has also expressed her support for decriminalization on multiple occasions.
María José Carrasco and the case that shocked Spain
The issue of euthanasia and assisted suicide was forced into the limelight in April 2019 when it transpired that Ángel Hernández had helped his wife with severe MS, María José Carrasco, end her life.
Carefully documenting their story, Hernández set up a camera in their living room and asked her if she wanted to go ahead with the plan. After Carrasco stated that she did, Hernández placed a glass containing a fatal substance and a straw in front of her.
The Right to Die with Dignity Association and Hernández were invited to the Catalan parliament in June 2019 to speak of their experiences.