Spain's Congress approves law decriminalizing euthanasia
Move comes after Socialist proposal and push from certain regional parliaments, including Catalonia's, and activists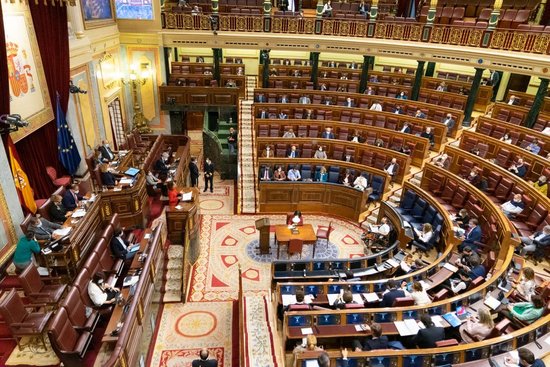 Spain's lower house passed a law on Thursday legalizing euthanasia with 198 MPs voting in favor of the motion, 138 voting against it, and two abstentions. Of Catalonia's 48 MPs in Madrid, 44 backed the motion.
Catalan pro-independence parties ERC, JxCat, PDeCAT, and CUP were among those in favor of the motion alongside the Socialists, Podemos, and Ciudadanos as well as other Basque, Valencian and Galician parties.
The conservative People's Party and UPN, as well as far-right Vox, condemned its approval, claiming it "encouraged" suicide.
Once approved by the Senate—which could be as early as next spring if there are no major modifications—Spain will become the sixth country in the world after The Netherlands, Belgium, Canada, Luxembourg, and Colombia to decriminalize euthanasia.
Adults suffering from serious, chronic, disabling, or incurable illnesses they will not or are likely to not overcome and who are in "constant and intolerable physical or mental suffering" will be able to request it.
Socialists and regional authorities press for legalization
Thursday's congressional vote on the matter comes after a proposal put forth by the Socialists, which was greenlighted last February, as well as a push from regional parliaments, including Catalonia's, with the help of activists.
Catalan health minister Alba Vergés has also expressed her support for decriminalization on multiple occasions.
María José Carrasco and the case that shocked Spain
The issue of euthanasia and assisted suicide was forced into the spotlight in April 2019, when it transpired that Ángel Hernández had helped his wife María José Carrasco, who had suffered from a severe case of MS for years, die.
Carefully documenting their story, Hernández set up a camera in their living room and can be seen on tape asking her if she wanted to go ahead with her plans. After unequivocally assenting, Hernández placed a glass containing a fatal substance and a straw in front of her.
The Right to Die with Dignity Association and Hernández were invited to the Catalan parliament in June 2019 to speak of their experiences.