2018: A year in pictures
Political drama, massive protests, and judicial battles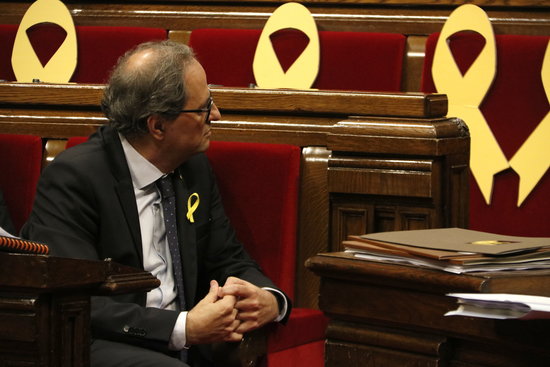 It was a year of drama and unexpected plot twists in the long-running political conflict over Catalonia's push for independence. It was a year marked by controversial court decisions and huge protests by different sectors of Catalan society. 2018 also took away one of Catalonia's greatest voices, but brought to prominence a promising new talent.
These are the pictures that summarize what happened in Catalonia over the past year—most of them, captured by journalists at the Catalan News Agency.
March 8: Largest feminist demonstration in Catalonia's history
The first feminist strike was a show of force that took many by surprise: never before had so many people taken to the streets to celebrate the World Women's Day. The strike put feminism and women's rights at the center of Catalan and Spanish politics, and sowed the way for new protests following the controversial verdict of 'La Manada' gang-rape case.
May 15: Belgium rejects extradition of three exiled former ministers
A triumph for pro-independence leaders, and a major blow for the Spanish judiciary. Belgium rejected a European Arrest Warrant for Toni Comín, Lluís Puig and Meritxell Serret, three former ministers who left Catalonia to avoid entering prison. In total, seven political leaders remain in exile.
June 2: New Catalan government takes office led by Quim Torra; direct rule ends
After three candidates were blocked by Spanish courts, Quim Torra became Catalonia's president and appointed a new cabinet, thus putting an end to Madrid's direct rule seven months after Madrid triggered Article 155 to sack the previous government. With their leaders in jail and abroad, pro-independence parties managed to retake control of the Catalan government.
July 28: Puigdemont returns to Belgium after not being extradited in Germany
Carles Puigdemont, the former Catalan president and the most prominent pro-independence leader internationally, returns to Belgium. Arrested while travelling, a German court rejected extraditing him back to Spain for the crime of rebellion—the most serious accusation against pro-independence leaders. With Puigdemont out of reach, Spain's Supreme Court withdrew all extradition orders for other leaders.
July 31: Taxi strike against ridesharing companies
Taxis in the Barcelona area call a strike to demand regulation against car-hailing services. The protest would go on for 8 days, leaving the city center blocked and eventually reaching its goal: the transfer of powers on licenses for services such as Uber and Cabify to autonomous communities, such as Catalonia.
September 11: 1m at pro-independence rally for 7th National Day in a row
On September 11, pro-independence supporters took to the streets on Catalonia's National Day for the seventh year in a row. Yet, it was the first time that they did so after a referendum, a declaration of independence suspended by Spain, and with Catalonia's most prominent leaders either in prison or abroad. Despite attendance falling from previous years, the rally was seen as a show of force by the pro-independence movement.
October 6: World-class soprano Montserrat Caballé dies
The Catalan world-class soprano Montserrat Caballé died at the age of 85 in Barcelona after being hospitalized for bladder problems. She took to the stage in top opera houses as her career spanned six decades. Along with Freddie Mercury, her performance of the song 'Barcelona' would become the hymn for the city's 1992 Olympics.
October 7: Vella de Valls team, winner of Tarragona human tower competition
The Colla Vella dels Xiquets de Valls won the first place in the 27th edition of the Concurs de Castells, Catalonia's most important human towers competition. Raising extremely complex towers (in the picture, a '3 de 10' comprising 10 stories), the Colla Vella dethroned the Castellers de Vilafranca, winners of the last seven editions.
November 15: Severe weather tops a record-breaking year in rainfall
Flood warnings, chaos for commuters at peak hours, and rainfall levels higher than those of Paris, London or Berlin. 2018 was an exceptional year in terms of rain, both in Barcelona and Catalonia as a whole.
November 16: Rosalía wins two Latin Grammys confirming meteoric rise
Catalan artist Rosalía shone at the Latin Grammys ceremony in Los Angeles, winning two prizes for her genre-bending hit 'Malamente'. Other awards would follow, recognizing 'El Mal Querer' album and her mix of flamenco and urban music. But perhaps more importantly, Rosalía's meteoric rise to stardom was paired both by critics' praise and a huge popularity.
November 17: Horrorland theme park ends successful first season
The "first scream park in southern Europe," located in Cercs, northern Catalonia, received 22,500 visits in its first season—that is, a full house for every single operating day. Promoters recognize Horrorland's first season has "exceeded the expectations."
December 1: Four jailed leaders start hunger strike after leaked photo
Four Catalan leaders in pre-trial jail begin a hunger strike. The reason: denouncing the Constitutional Court's delay in handling their appeals, which they claim prevents them from bringing their cases to European courts. The announcement was made after the first photo of the male incarcerated officials was made public. Jailed leaders ended the hunger strike two weeks later.