Protests around Spain over 'La Manada' verdict
Thousands gather in Barcelona to express indignation at Pamplona court's dismissal of rape allegations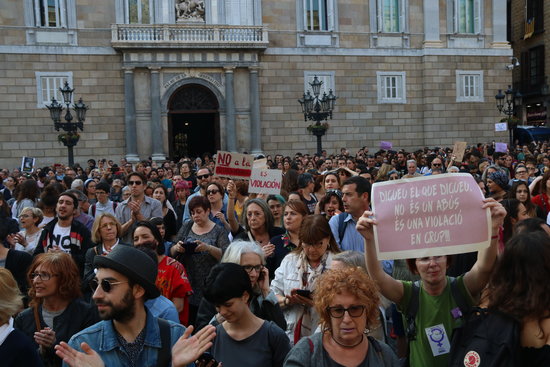 Barcelona was just one of the cities that on Thursday evening saw widespread protests over a decision by a Pamplona court to dismiss rape allegations in the infamous 'La Manada' sexual assault case. Organized by the CCOO union, the protest in Sant Jaume square began at 7pm and attracted thousands of people protesting what they regard an unjust decision by the court, which found a group of men guilty of sexual assault rather than gang rape. Protests also took place in cities such as Madrid, Seville, Valencia and Bilbao.
What's the 'Manada case'?
Earlier in the day, a Pamplona court found five men guilty of sexually assaulting an 18-year old woman in the San Fermín festival two years ago, and sentenced them to nine years in prison. However, the prosecutor had pressed for a 22-year sentence for gang rape but the court dismissed the allegations, ruling that there was no violence or intimidation toward the victim, arguing she should have fought back - although there is an actual video, taken by the men themselves. The decision sparked widespread outrage outside the court and on social media, and demonstrations were quickly called in almost a dozen cities around Spain.

The case became known as 'La Manada' (Spanish for The Pack) case, following the name of the WhatsApp group used by the accused to share the video of the attack with their friends. However, the men were found innocent of violating the woman's right to privacy. In the 96-second video of the attack, the woman is seen immobile and with her eyes closed. The defense claimed that her silence implied her consent.

Following the verdict, a number of Catalan public figures publicly expressed their indignation. Deposed president Carles Puigdemont tweeted that the decision was "deeply shameful," while the Catalan socialist party called the verdict "disgraceful" and said it sends out a "very dangerous" message. A spokesman for the ERC party also called the sentence "shameful" and said it was another example of the "unfairness" of the Spanish judiciary. Meanwhile, Barcelona mayor Ada Colau sent the victim a message of support: "You are not alone, today thousands of us will take to the streets and add our voice to yours," she said.