1,200 Barcelona residents protest city's 'despair, sadness, and stagnation'
Barcelona is Unstoppable movement displeased with council's "lack of leadership"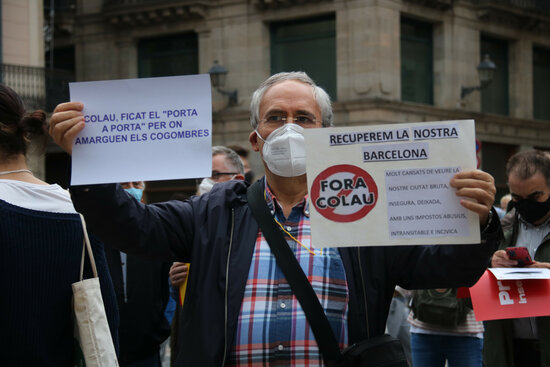 Some 1,200 people gathered at the Catalan capital's Plaça Sant Jaume, the square that houses both the Catalan government headquarters and the council, on Thursday to express their dissatisfaction with what they describe as the city's "despair, sadness, and stagnation."
Organized by the Barcelona is Unstoppable movement made up of around 100 civil society groups, they denounced the city council's "lack of leadership" and called for a "change of course."
"We are taking a stand against a dynamic that does not satisfy us," said Gerard Esteva of the Union of Sports Federations of Catalonia. "This is the first warning. If there are no changes and things are not done well, we will show a red card again."
Barcelona is Unstoppable manifesto
'Barcelona és imparable' (or Barcelona is Unstoppable, in English), which has not been endorsed by any political parties, argues that, "for years, the city has missed out on opportunities that could place it at the epicenter of strategic sectors in the international arena."
Without explicitly mentioning mayor Ada Colau, of anti-austerity En Comú Podem, or her policies, the manifesto blasts what it describes as the city's 'no' culture that has held it back from "social and economic progress as well as sustainability."
Colau and her party positioned themselves against the contentious Barcelona airport expansion plans which would have negatively impacted the nearby La Ricarda nature reserve – put on hold for now – as well as against opening a new Hermitage museum on the seafront.
Barcelona is Unstoppable has created a Twitter account, @bcnesimparable, to highlight what it regards as the city's issues in terms of "cleanliness, insecurity, and mobility."