What will defendants in the independence trial argue?
Seven keys for their defense include lack of violence, no public money spent on referendum, legality of independence vote and "violation of rights" by Spain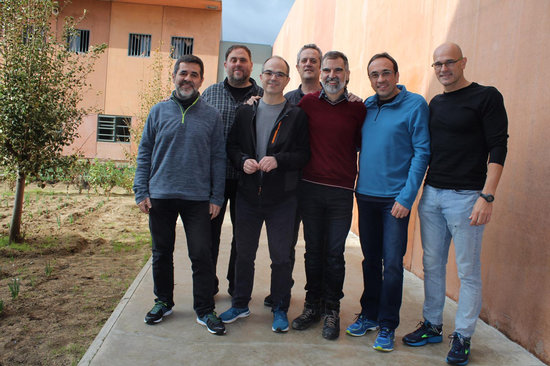 Twelve pro-independence politicians and activists will face a trial for the October 2017 referendum and the declaration of independence in the coming weeks – nine of them are in pre-trial jail.
They face a proposed 177-year prison sentence altogether proposed by the public prosecutor, for charges like rebellion, misuse of funds, and disobedience.
Most of them have already handed in their statements of defense, meaning that their arguments faced with the allegations have already been released.
Each display distinctive features, better understood with seven key points for understanding the main ideas of the defenses.
1. Political trial and violation of rights
The trial will be political and there has been a "judicial persecution" of the pro-independence ideology, according to some of the statements.
Former ministers Junqueras and Romeva say the inquiry "has been tainted with illicitness from the beginning, managed with total disdain of the fundamental rights of the people under investigation, and faced a disproportionate secrecy in summary proceedings."
Activist Jordi Cuixart denounces the "suspension of civil and political, democratic rights" in order to "protect Spain's unity."
The former parliament speaker Carme Forcadell thinks the Spanish Constitutional Court was a "political actor in the Catalan conflict."
2. Peaceful protests and movement, Spanish violence during referendum
The prosecuted leaders coincide in defending the "peaceful" nature of the pro-independence movement since its sharp rise in 2012.
The Spanish police raids in public buildings to stop the referendum on September 20, 2017, sparked major protests, which led to the jailing of Cuixart and fellow activist Jordi Sànchez.
They both reject the rallies having been "hostile or violent." Sànchez says he "showed collaboration with the judicial team" that whole day, while Cuixart points out he "made explicit calls to show civic and peaceful behavior" on September 20.
He regrets damages to some police cars, but believes they were "much less serious" than the ones in other gatherings of any kind. Yet the fact that Spanish police officers left weapons in the vehicles "grabs the attention" of Sànchez.
Most of the prosecuted leaders also highlight that the only ones exercising violence on October 1 were the Spanish police officers.
3. No political orders to Catalan police
One of the most controversial points in the trial is set to be the supposed lack of action by the Catalan police to stop the October 1 independence referendum.
"The politician responsible [for the Catalan police] did not interfere in any operative decisions," reads the statement of defense by former home affairs minister Joaquim Forn.