Spain's prosecutor requests 177 years in prison for Catalan pro-independence leaders
Former VP Oriol Junqueras faces demand for 25-year jail sentence for crime of rebellion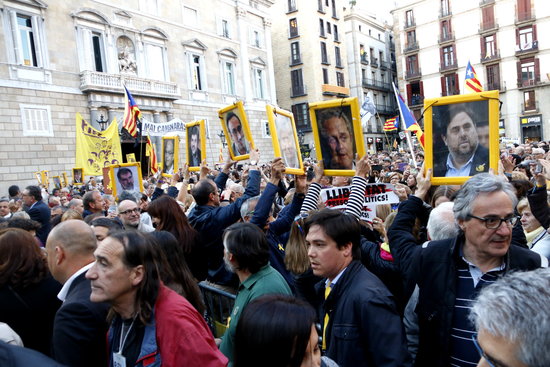 Spain's public prosecutor has requested a total of 177 years in prison for members of the Catalan government that organized a referendum and declared independence a year ago, as well as for the former parliament speaker and two leading activists.
They are all accused of violent rebellion, one of the most serious offences in the criminal code, which has been widely contested.
The prosecutor demands a 25-year jail term for Oriol Junqueras, the former vice president. Along with Junqueras, eight other Catalan leaders are in pre-trial jail for their role in the independence bid. The prosecutor requests 17 years for the parliament president at the time, Carme Forcadell, and civil society leaders, Jordi Sànchez and Jordi Cuixart.
With the trial due to start in the coming months, Spain's attorney general also asks for 16-year prison sentences for other ministers at the time of the independence vote, including Jordi Turull, Josep Rull, Dolors Bassa, Raül Romeva, and Joaquim Forn, all of whom are in jail.
The Catalan police chief at the time, Josep Lluís Trapero, as well as two other police heads, are also accused of rebellion, with the prosecutor demanding 11 years in jail for each of them. Teresa Laplana, an interior ministry official, faces a 4 year prison term for sedition.
These proposed sentences would total 214 years behind bars taking into account the 177 years for the political leaders. The fines for them total 264,000 euros.
Unlike their former government colleagues, Carles Mundó, Meritxell Borràs, and Santi Vila (free on bail) are accused of the lesser offence of misuse of public funds, for allegedly allocating money from the administration to pay for the referendum, which had been deemed illegal by the Spanish courts.
The prosecutor also requests former parliament bureau members Lluís Corominas, Lluís Ginó, Anna Simó, and Ramona Barrufet, as well as former MP Mireia Boya, be barred from public office for a year and eight months. Joan Josep Nuet, also a former bureau member, could face a suspension of one year and four months.
This is the full list of the proposed sentences by the Spanish public prosecutor:
Catalan government
1. Oriol Junqueras (in pre-trial prison): rebellion, 25 years in jail, 25 years barred from office
2. Joaquim Forn (in pre-trial prison): rebellion, 16 years in jail, 16 years barred from office
3. Dolors Bassa (in pre-trial prison): rebellion, 16 years in jail, 16 years barred from office
4. Jordi Turull (in pre-trial prison): rebellion, 16 years in jail, 16 years barred from office
5. Josep Rull (in pre-trial prison): rebellion, 16 years in jail, 16 years barred from office
6. Raül Romeva (in pre-trial prison): rebellion, 16 years in jail, 16 years barred from office
7. Carles Mundó (freed on bail): misuse of public funds, 7 years in jail, 16 years barred from office, 30,000-euro fine
8. Meritxell Borràs (freed on bail): misuse of public funds, 7 years in jail, 16 years barred from office, 30,000-euro fine
9. Santi Vila (freed on bail): misuse of public funds, 7 years in jail, 16 years barred from office, 30,000-euro fine
Grassroots leaders
10. Jordi Sànchez (in pre-trial prison): rebellion, 17 years in jail, 17 years barred from office
11. Jordi Cuixart (in pre-trial prison): rebellion, 17 years in jail, 17 years barred from office
Former parliament bureau members
12. Carme Forcadell (in pre-trial prison): rebellion, 17 years in jail, 17 years barred from office
13. Lluís Corominas (freed on bail): serious disobedience, 1 year and 8 months barred from office, 30,000-euro fine
14. Lluís Guinó (freed on bail): serious disobedience, 1 year and 8 months barred from office, 30,000-euro fine
15. Ramona Barrufet (freed on bail): serious disobedience, 1 year and 8 months barred from office, 30,000-euro fine
16. Anna Simó (freed on bail): serious disobedience, 1 year and 8 months barred from office, 30,000-euro fine
17. Joan Josep Nuet (freed without precautionary measures): serious disobedience, 1 year and 4 months barred from office, 24,000-euro fine
Other officials
18. Mireia Boya (freed without precautionary measures): serious disobedience, 1 year and 8 months barred from office 30,000-euro fine
Exiled
19. Carles Puigdemont (in Belgium): in absentia, no sentences proposed
20. Toni Comín (in Belgium): in absentia, no sentences proposed
21. Clara Ponsatí (in Scotland): in absentia, no sentences proposed
22. Meritxell Serret (in Belgium): in absentia, no sentences proposed
23. Lluís Puig (in Belgium): in absentia, no sentences proposed
24. Marta Rovira (in Switzerland): in absentia, no sentences proposed
25. Anna Gabriel (in Switzerland): in absentia, no sentences proposed