Vote on Puigdemont's immunity as MEP to be held on March 8
Result of procedure that could lead to resumption of extradition cases will not be made public until following day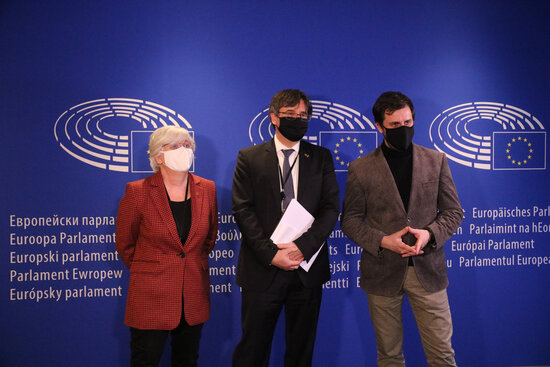 The vote on lifting Carles Puigdemont's immunity as MEP will take place in a European Parliament plenary session on March 8 – yet, the outcome of the vote will not be revealed until March 9, the next day.
Last week, the EU Parliament Committee on Legal Affairs, led by a member of the anti-independence Ciudadanos party, Adrián Vázquez, recommended putting an end to Puigdemont's immunity, following a report drafted by ultra-conservative MEP Angel Dzhambazki – the step prior to the final vote next Monday.
This move also involves exiled former Catalan ministers and current Junts per Catalunya (JxCat) MEPs Toni Comín and Clara Ponsatí.
In Belgium to avoid being sent to prison like many of his colleagues, Puigdemont won his MEP seat in the last European election, earning him immunity from Spain's repeated attempts to extradite him to try him for the event surrounding the 2017 push for independence.
His extradition case was automatically put on hold, but Spain's Supreme Court hopes to move forward with the procedure if the privileges he enjoys as an MEP are waived.
Indeed, it is expected that the chamber will accept lifting his immunity, given the vote in the committee, but the European United Left–Nordic Green Left and the Greens groups have already sided in favor of Puigdemont's interests.
The former president recently called on all MEPs to support him, but the battle to keep his immunity is expected to continue after next week.
JxCat, Puigdemont's party, denounced a "breach of confidentiality" since the content of Dzhambazki's report was known before the committee's vote – the chamber insists that MEPs cannot reveal the content of reports before a vote in a committee.
Thus, Puigdemont is expected to take the whole procedure to the European Court of Justice if their immunity is waived, claiming that there have been "formal errors".
Because of this, some European Parliament sources fear a backlash from judges given the procedure's "irregularities", which they said could be "shameful".