Unionist parties call Catalonia's National Day 'exclusionary'
Forces say day has become a "nationalist" celebration that no one "enjoys"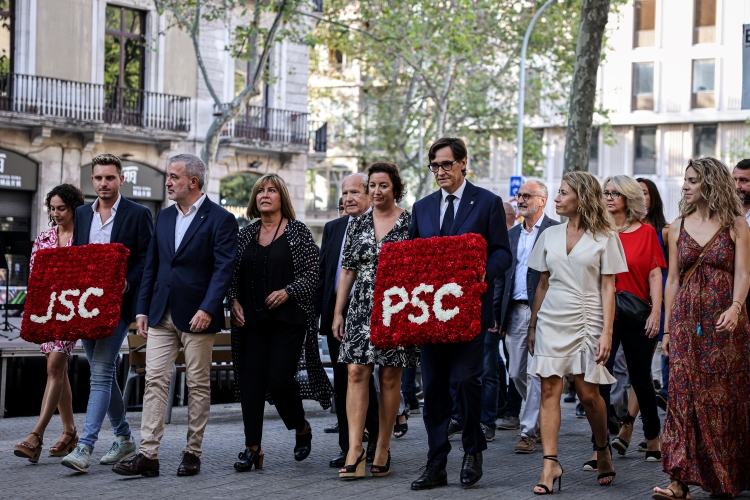 A public holiday that not everyone "enjoys." This is how most unionist parties describe Catalonia's National Day, 'La Diada' after years of massive pro-independence rallies. This year is no different, as these political forces stated a few minutes before midday on Sunday.
While most pro-independence parties and those in favor of a self-determination referendum - as well as the unionist Socialists - attended the floral tribute to the last leader of Catalonia before its loss of sovereignty in 1714 in Barcelona early on Sunday morning, Ciudadanos, the People's Party, and Vox did not join them.
Socialists: "Respect diverse viewpoints"
The leader of the Catalan Socialist party (PSC), Salvador Illa, called for "respect" of "diverse viewpoints" after placing flowers before the statue of Rafael Casanova.
This should be a "respectful Diada," as, he added: "We would like to highlight the virtues of Catalan society as one that is welcoming, unifying, and that respects all thoughts."
On a similar note, Spanish PM Pedro Sánchez, leader of the Socialist group in Spain, called on all Catalans "to celebrate and to keep working towards reunion and progress of all residents," he tweeted.
"Catalonia's social and cultural plurality is a richnesses for Spain," he wrote in Catalan and Spanish on social media.
Avui és un dia per celebrar i per seguir treballant pel retrobament i el progrés de tots els catalans i les catalanes.

La pluralitat social i cultural de Catalunya és una riquesa pel conjunt d'Espanya.

Bona Diada!#Diada2022 pic.twitter.com/b7ZUPrLggj

— Pedro Sánchez (@sanchezcastejon) September 11, 2022
Ciudadanos: celebrate Sant Jordi instead
Center-right unionist party Ciudadanos has been one of the most vocally opposed to the independence movement for years. This year they have been giving out roses as they pledge to change Catalonia's National Day from September 11 to April 23, Sant Jordi.
Sant Jordi should be the Catalan National Day "as all Catalans accept it and it is internationally recognized," Carlos Carrizosa, the president of the political force said.
"September 11 has become an increasingly exclusionary nationalist celebration. Before, unionists did not enjoy the festivity, and now not even pro-independence supporters celebrate it," he added in reference to the turmoil between the Catalan government's coalition parties.
Pro-independence parties "do agree when it comes to despising Spain, removing any sign and presence of Spain [in Catalonia], and eliminating the Spanish language from schools," he concluded.
People's Party: "Catalans are sick of" independence campaign
The People's Party also referred to the confrontation between pro-independence forces. "Residents do not deserve to constantly have a Diada full of confrontation and insults," Alejandro Fernández, the party president in Catalonia, said to media outlets.
"Before, they only used to swear at those who are not in favor of splitting the country, and now, they even insult themselves," he added referring to Junts per Catalunya and Esquerra Republicana de Catalunya.
"Over these last ten years, we have had 'Diades' full of hostility, then of tiredness, and now of indifference. A lot of Catalans are sick of it," he said.
Vox: "Day of divisive separatism"
The far-right unionist party, Vox, has also addressed the confrontation between pro-independence parties.
While some parties participated in the tribute to Rafael Casanova, the Vox spokesperson in Catalonia, Joan Garriga, joined another far-right organization to attend a floral tribute at the Hospital Santa Creu.
September 11 "is not the day of Catalonia, this is the day of divisive separatism. Separatism is the division that has divided Catalonia in two," Garriga said to media outlets.