National Day: what to do for September 11 in Catalonia and beyond
A guide to main 2022 'La Diada' commemorative events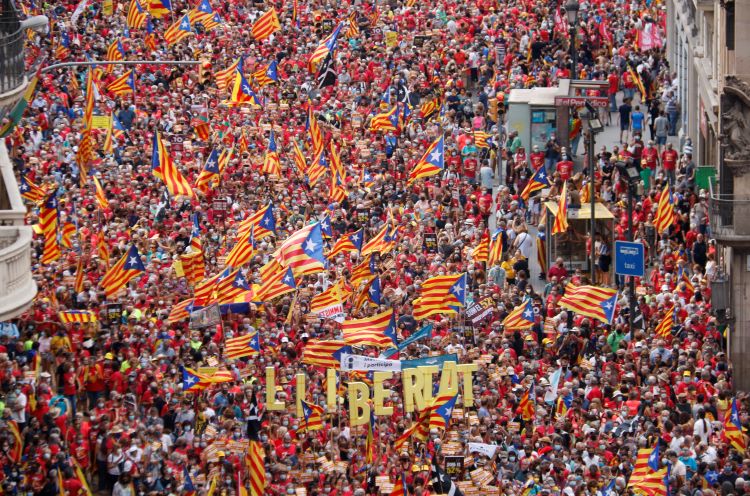 September 11 is a date of utmost historical significance in Catalonia, marking the fall of Barcelona in 1714 during the Spanish War of Succession and the territory's loss of sovereignty.
And as is the case every year, commemorative activities will take place in Catalonia and abroad on Sunday and the days leading up to the anniversary of the fateful event.
Check out our guide to the main 'La Diada' activities below:
In Catalonia
Catalan parliament open days: Visit the headquarters of one of the world's oldest parliaments – inspired by the Paris Opera House – for free.

Where: Catalan parliament, Ciutadella Park, Barcelona

When: September 10 from 11 am to 9 pm and September 11 from 11 am to 6 pm

Catalan government open days: Sign up here for a free tour of the Catalan government headquarters.

Where: Catalan government, Plaça Sant Jaume, Barcelona

When: September 10 from 10 am to 9 pm and September 11 from 10 am to 5 pm

Floral tribute: Political parties and civil society organizations lay flowers at the foot of the statue of the commander in chief during the siege of Barcelona.

Where: Rafael Casanova Monument, Ronda Sant Pere, Barcelona

When: September 11 from 9 am

National Day protest: Organized by the pro-independence Catalan National Assembly, the association calls on people to take to the streets to demand a split from Spain. While previous editions attracted over a million protesters, fewer people have gathered in recent years, especially following the pandemic.

Where: From Avinguda Paral·lel to the Estació de França train station

When: September 11, 5:14 pm, although people are advised to arrive by 4:30 pm

Main official commemorative event: Music, theater, dance, and video mapping highlighting Catalan values, culture, and identity, putting the spotlight on the role of women in history.

Where: Puig i Cadafalch towers, Montjuïc mountain, Barcelona

When: September 11, 10 pm
Abroad
Catalan delegation to the EU: Sign up here to attend the opening of the 'Catalonia with Europe: 1982-2022' exhibition on Catalonia's 40-year presence in Brussels. Vice president Jordi Puigneró and foreign minister Victòria Alsina will be in attendance at the event that will also be live-streamed on YouTube.

Where: Espai Catalunya Europa. Rue de la Loi / Wetstraat, 227, Brussels

When: September 6, 6:30 pm

Catalan delegation to Germany: Tempus Trio concert followed by Catalan Cava and wine tasting and tapas. Prior registration is required.

Where: F.A.Z. Atrium Berlin Mittelstraße 2-4, Berlin

When: September 7, 6:30 pm

Catalan delegation to the UK and London's Casal Català: Celebrate 'La Diada' with London's Catalan community

Where: Royal College of Surgeons of England 38-43 Lincoln's Inn Fields, London

When: September 7, 6 pm

Catalan delegation to US and Canada: Sign up here to mark the event - and eat Catalan delicacies while learning how to make Catalonia's signature dish, 'pa amb tomàquet'.
Where: 1441 L St. NW, Washington DC 20005
When: September 8, 6 pm
Catalan delegation to France: Email fr@gencat.cat to attend the 'La Diada' festivities in France to the beat of Barcelona-based Andean DJ Sonido Tupinamba.

Where: Paris Yacht Marina (Port de Grenelle, Paris 75015)
When: September 11, 4 pm to 7 pm.
Where: Biblioteca municipal Bogdan Ogrizovic, Preradoviceva 5, Zagreb
When: September 14, 6 pm