'The King's Armor': Why Spain protects its scandal-ridden monarchy
Journalist Albert Calatrava explains decision to shield Juan Carlos I from prosecution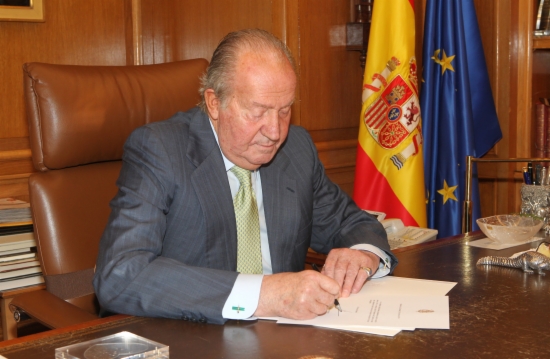 The result of extensive documentary research and around a hundred interviews, many of them off-record, 'The King's Armor', or 'L'Armadura del rei' chronicles the ways those in power have shielded both Spain's former king, Juan Carlos I, from prosecution and continued to protect his son, King Felipe VI.
Published in Spanish by Roca Libros and in Catalan by Ara Llibres, the recently-released book is the work of three journalists: Público's Ana Pardo de Vera, ETB's Eider Hurtado, as well as TV3 and Catalunya Ràdio's Albert Calatrava, who discussed their findings with Catalan News.
Post-dictatorship stability
There have long been suspicions that Juan Carlos was involved in questionable business affairs and "lived off kickbacks," Calatrava explains. But after writing this book, he has no doubt that these suspicions are, in fact, not only true, but that the former king's dealings were carried out "shamelessly, and practically with the collusion of some state powers."
Why these affairs took so long to come to light can be explained by looking back at Spanish politics and society of the late 1960s and the 1970s. The grandson of Spain's then-most recent monarch, Alfonso XIII, Juan Carlos was named dictator Francisco Franco's successor and then proclaimed King of Spain days after the general's death in 1975.
"Strengthening the king was a way of strengthening Spain's 1978 transition to democracy," Calatrava told Catalan News this week. "In order to protect the stability," of the post-Franco constitutional monarchy, "many turned a blind eye, including certain people in business, judges, politicians, and the media."
According to the journalist, Juan Carlos' misdeeds were swept under the rug for decades until they became too difficult to gloss over. He abdicated in 2014, two years after his fateful elephant-hunting trip to Botswana, and moved to Abu Dhabi just last summer.
The former king, however, might not be away for long. "He wants to come back," Calatrava says, claiming that soon after he arrived in the United Arab Emirates, he was already telling those closest to him that he wanted to attend Galicia's Sanxenxo boat races in September. He has not yet returned, Calatrava believes, because his son does not think it would help the monarchy's cause given the ongoing inquiries into his finances.
Felipe VI's armor
Could Spain's current king also be involved in his father's corruption scandals? This is something we don't yet know for sure.
Last year the news broke that Felipe VI had been the beneficiary of Juan Carlos' offshore funds, but it also surfaced that he had gone to a notary in 2019 to have his name removed from the accounts.
Spain's Supreme Court's Prosecutor's Office is currently carrying out three investigations into these affairs, but Calatrava does not expect much will come from them—if anything, he says, maybe Swiss prosecutor Yves Bertossa will be able to uncover something.
"A Supreme Court magistrate told us that the best thing for Juan Carlos is for these inquiries to remain in the Supreme Court because it is a court that tends to protect the status quo," Calatrava said. "It would be much more dangerous for him if the Anti-Corruption Prosecutor's Office or even another court's prosecutor were looking into this."
In December, Juan Carlos paid the Spanish tax office €678,000 in back taxes, followed by another €4.396 million in February. Because these payments were made voluntarily, the former monarch cannot be the subject of a tax crimes investigation for these amounts, leading some to suspect he could have been tipped off.
The future of the Spanish royal family
There's no question the former king's conduct has landed the Spanish crown in hot water.
According to Calatrava, there are members of the current Spanish government that are aware of this, despite the Socialists' proclivity for voting with the conservative People's Party and far-right Vox against congressional probes into the royal family.
"There has been talk of a 'Crown Law' of sorts," he says, which would lead to more openness regarding exactly how much public money is being spent on the royal family, directly and indirectly, and where, as well as force them to submit public declarations of their assets—although this might happen later rather than sooner.
"In the long run," Calatrava concludes, "if Felipe VI wants to remain in power or if he wants his daughter Leonor to reign, the monarchy will have to become more transparent."