The Spanish king, a Saudi 'gift', and a Swiss probe
Prosecutor Yves Bertossa investigates former monarch's $100 million uncovered by Tribune de Genève journalists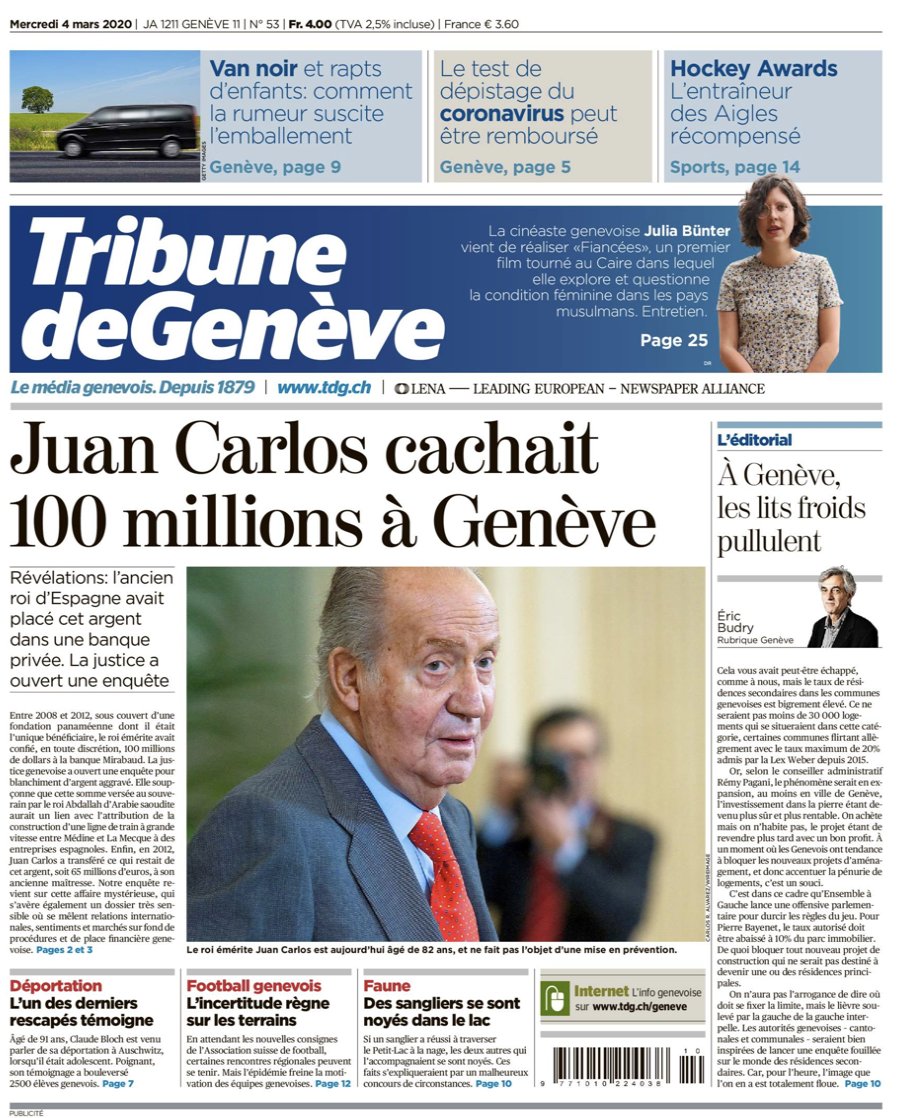 When it comes to bizarre scandals, Spain's former king, Juan Carlos I, might never outperform his elephant-hunting trip to Botswana, secretly traveling there with his lover in 2012 while the country was coping with a painful economic crisis.
Still, the more recent Swiss probe into the monarch's financial deals, which involves an alleged $100-million "gift" from his Saudi counterpart, as well as offshore funds in the Bahamas and Lichtenstein, is worth an honorable mention.
The story was first reported by the Tribune de Genève, which claimed that Juan Carlos had kept a secret bank account in Switzerland from 2008 to 2012 when he was yet to abdicate the throne to his son Felipe.
"It's supposed to be a modern king in a modern Western European country, and the fact that he kept this money for himself without telling anyone makes the story really extraordinary," says Sylvain Besson, one of the journalists who got the scoop.
According to Swiss prosecutor Yves Bertossa, Juan Carlos might have received $100 million from Saudi Arabia in exchange for helping seal a business deal to build a high-speed railway from Medina to Mecca, persuading the Spanish firm hired to build it to offer the Saudis a 30% discount.
Juan Carlos' aides have denied accusations that the payments could be a bribe, calling it "purely a gift" from his good friend, the late King Abdullah.
The prosecutor is also probing whether Abdullah's transfer to Juan Carlos could constitute a crime under Saudi law, such as "disloyal mismanagement of public interests," as reported by Bloomberg.
Whatever Bertossa's conclusions, it is all but certain that Juan Carlos will avoid any charges since any deeds would be covered by the immunity he enjoyed as Spain's head of state until 2014.
Instead, the prosecutor is investigating two of the monarch's assistants, Dante Canonica and Arturo Fasana, the bank that held the funds, Mirabank, as well as the king's former lover, the German-Danish aristocrat Corinna Larsen.
Larsen entered the picture in June of 2012, a few months after traveling with Juan Carlos to Botswana.
A change in legislation in Switzerland forced the monarch to close his bank account, but at a time when his popularity had dropped following the hunting trip, the prospect of his vast fortune coming to light was deemed too much of a risk.
"He had to find a way to get rid of the money because if it was discovered at that point, the monarchy could explode completely. So he decides to give the money to his lover, and the money goes away to the Bahamas first and then to the US. So the money, today, we don't really know where it is," says Besson.