Supreme Court's decision on pardoned leaders is 'revenge,' Catalan politicians say
President Pere Aragonès hopes European courts will amend the mistake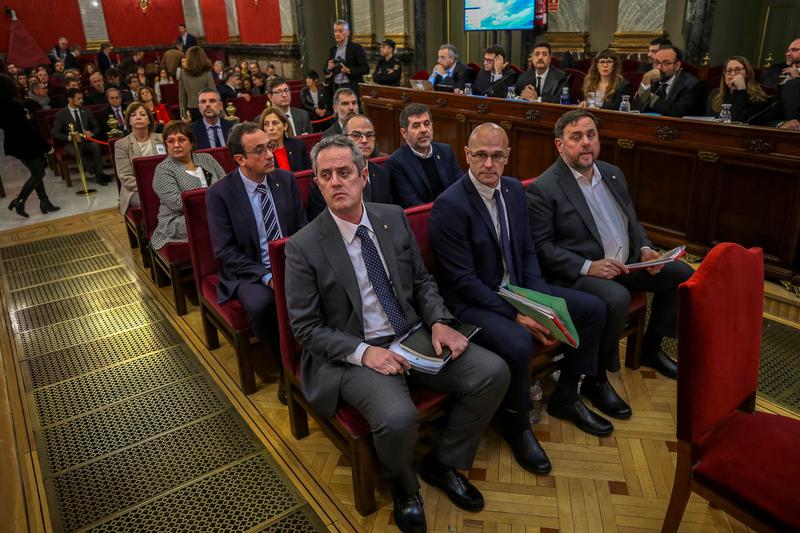 Spain's Supreme Court's decision to lift the bans from public office for five of the pardoned independence referendum leaders did not go unnoticed by many. Several Catalan politicians consider it a "desire for revenge," as president Pere Aragonès said in an interview with RAC1 radio.
For him, the judges' ruling is a "very rigid understanding" of the new penal code, but he hopes that, as this court has had to "amend" its decisions twice, it will have a "third amendment" from European magistrates.
The politician's comments came a few hours after the Spanish Supreme Court lifted the bans from public office for some of the leaders convicted for the 2017 referendum following the recent changes in the penal code.
Former parliament speaker Carme Forcadell, former ministers Josep Rull and Joaquim Forn, and activists Jordi Sànchez and Jordi Cuixart will be able to run in elections from now on.
Yet, the remaining four leaders convicted to decade-long prison sentences and subsequently pardoned saw no changes in their status.
Thus, the heads of the mainstream pro-independence parties – Oriol Junqueras, president of governing party Esquerra, and Jordi Turull, secretary general of Junts – are still disqualified until 2030 and 2031, respectively.
Former Catalan ministers Raül Romeva and Dolors Bassa, both members of Esquerra, will also have to see out their disqualifications until 2030 and 2031, respectively.
'Repressive will'
Like Aragonès, Junqueras considered the decision to demonstrate a "spirit of revenge" and a "repressive will" against him and the other former ministers.
He believes that the "political will" has been left aside as judges had decided on the crimes of misuse of public funds following the People's Party positioning in place before the recent penal code revamp. This point of view goes against Catalan pro-independence leaders and he says they will appeal the decision to the European Court of Human Rights (ECHR) if needed.
While Junqueras has not seen the time he will be barred from office reduced, Jordi Sànchez has. However, he will appeal the decision as he is now being charged with a crime he could not defend himself against during the trial.
Charging him with the crime of misuse of public funds "opens the door to hundreds of people facing the same consequences" just for taking part in the referendum, Sánchez said in an interview with Catalunya Ràdio.
The pardoned pro-independence leader was the head of the Catalan National Assembly (ANC) during the 2017 self-determination referendum. He was then imprisoned on October 16 of that year.
Sánchez was the main figure of this civil-society group in favor of independence, which considered the Supreme Court's decision "new proof of the dialogue table's failure."
This negotiating group was set up to solve the Catalan independence push conflict between the Spanish and Catalan governments with sporadic meetings. The last one in July 2022 aimed to dejudicialize the conflict.
"It does not work to reach a deal with the people who persistently violate our rights," the ANC states.
"We checked, and we condemn that former Assembly president Jordi Sànchez's fundamental rights are still under attack," the group's text continues.
No plans to return to politics
The former parliament speaker, Carme Forcadell, is not considering returning to institutional politics or participating in any upcoming elections, even if the Supreme Court has lifted her ban from public office.
"I do not have it in mind," she said during an interview on RTVE Spanish public broadcaster's Cafè d'Idees show.
"Talking about leading a candidacy now that some of my colleagues who would like to cannot do it does not seem like a good moment. I do not think I will do it," she added.
She even believes that "you can do politics from other positions, you can transform the territory and work to improve its citizens' lives from institutions but also from public entities," she concluded.
Something similar was said by Joaquim Forn, who has also had his ban from public office lifted. However, his will is to "return to my professional life, far away from politics."
In an interview with SER radio, Forn rejected running in the Barcelona local election with Junts party candidate Xavier Trias, who used to be his colleague before Forn became a minister.
"I will help him with everything I have, he has all my support, and he is a great candidate," the formerly imprisoned leader said before highlighting that he had been part of the city plenary for 17 years.