'Historic' Catalonia - Spain talks on independence issue get underway
First session in Barcelona, preceded by presidents' meeting, without junior Catalan government coalition partner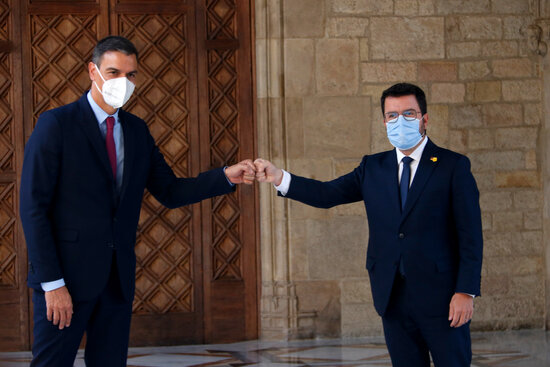 A fresh round of talks between the Catalan and Spanish governments over the issue of independence began on Wednesday afternoon in Barcelona.
This first session was preceded by a meeting at 3 pm between both presidents, Pere Aragonès and Pedro Sánchez, to set the rules of the talks.
Both attended the beginning of the talks between delegations and left soon afterwards.
The Catalan presidency minister, Laura Vilagrà, and business minister, Roger Torrent, will also be present, while on the Spanish side, presidency minister, Félix Bolaños; territorial policy minister, Isabel Rodríguez; culture minister, Miquel Iceta; and second vice president, Yolanda Díaz, will attend.
Catalonia: no deadlines with final aim of achieving Scotland-like referendum
Shortly after the meeting with the Spanish president, Pedro Sánchez, Aragonès said to the press that both sides have come "from very different starting points" and avoided setting deadlines for the talks.
"More than specific deadlines, we need commitment and progress," he stated.
According to him, a "new phase in the political conflict between Catalonia and Spain" has begun. "What Catalan society asked for - Spain, sit and talk - is now happening."
The head of Catalonia's cabinet also brought up the independence camp's proposed solution to the conflict: "I stressed the need for a referendum on independence as it is the most inclusive option." He argued that it "allows everyone to defend their position."
"This is what Scotland was able to do and will likely do again," he added.
Spain: need to work 'unhurriedly but at a steady pace with no deadlines'
After his meeting, Sánchez also talked to the press confirming that his position was "radically different from that of the Catalan government," but added that both leaders agreed that dialogue is the way forward.
"We have decided to continue working together unhurriedly but at a steady pace with no deadlines," Sánchez told the press. His term will end by November 2023 and Esquerra, Aragonès' party, agreed with CUP, key for a pro-independence majority in the chamber, to determine whether there was any point in continuing the talks in 2023.
Sánchez confirmed that Aragonès once again called for a referendum on independence, something that did not receive a positive answer: "We live together and need to decide together. Anything that affects Spain must be decided amongst all Spaniards," Sánchez told the media.
Junior Catalan government partner rejects attending talks
In the end, Catalonia was represented by ministers of the Esquerra party, the senior coalition partner, after President Aragonès rejected its junior partner Junts' request to send politicians who are not cabinet members.
Junts announced it would not send anyone else and will, therefore, not take part in Wednesday's meeting.
Unlike in the one meeting that took place in 2020 before the pandemic struck, both executives are now led by parties that prioritize dialogue with each other as Esquerra prevailed over Junts in the February election – while the former thinks sitting at a negotiating table is the only way out, the latter is skeptical and believes another push like the one that saw a non-authorized referendum in 2017 needs to be planned.
Indeed, Aragonès did not want to "lose" a "historic opportunity" to participate in a forum of this kind with the Spanish government after years of urging Madrid to sit and talk about the independence issue.
Catalonia seeks referendum, Spain wants to tackle sectorial issues
The ultimate aim of the delegation led by Aragonès is unitary: a Scotland-like referendum on independence that is accepted by Spain and an amnesty for everyone facing judicial procedures for the independence push in the 2010s, including the return of former president Carles Puigdemont from exile.
As for the government in Madrid, they would like to discuss the "reconciliation" between Catalonia and Spain. Minister Miquel Iceta, the former head of the Catalan Socialist party, said on Monday that if the negotiations revolve exclusively around a referendum and an amnesty, "they will be short and unsuccessful."
Check out the entire Catalan News preview to the meeting here.