Catalan-Spanish talks on independence resume with dejudicialization of conflict
Third 'dialogue table' meeting held in Madrid with only members of senior Catalan coalition partner Esquerra Republicana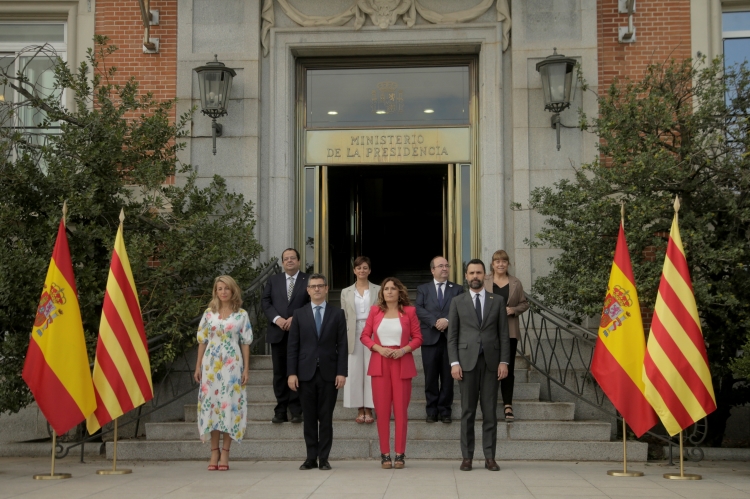 Catalan and Spanish government officials are meeting in Madrid from 10 am on Wednesday to resume talks on independence. This is the third so-called 'dialogue table' meeting, and the first one in 10 months, as the last one was held in Barcelona last September.
Politicians will tackle several topics, and some "steps forward" to dejudicialize politics could be reached, presidency minister Laura Vilagrà said on Monday in an interview with Catalunya Ràdio. Authorities will work on "partial elements" but they will start on those that "have greater chances of becoming agreements," she added.
The Catalan government is represented by Vilagrà, business minister Roger Torrent, interior minister Joan Ignasi Elena, and culture minister Natàlia Garriga. All of them are members of the senior coalition partner Esquerra Republicana de Catalunya, which has long taken a less confrontational stance with Spain than Junts per Catalunya.
In fact, Junts, the junior coalition partner, has once again decided not to participate in these talks as only members of the Catalan and Spanish governments have been allowed to attend.
Of the four names Junts had put forward, only one is of a Catalan government official: vice president Jordi Puigneró.
Presidency minister Félix Bolaños, labor minister and vice PM Yolanda Díaz, culture minister and former head of the Catalan Socialist party Miquel Iceta, as well as territorial policy minister and spokesperson Isabel Rodríguez will be representing the Spanish side.
Unlike the last September, neither Aragonès nor Sánchez are in attendance on Wednesday.
The central administration expects to sign a joint document. This has already been pre-approved after the work done between both presidency ministers during their previous meetings.
Sources confirm this will be a "very specific" agreement that will not include any references to amnesty or self-determination as the Spanish executive is looking forward to "deals" and not disagreements.
The meeting comes a week and a half after Catalan president Pere Aragonès and Spanish prime minister Pedro Sánchez met in Madrid on July 15, their first meeting since news of Catalangate, the espionage of at least 80 people with ties to the independence movement with government-grade spyware, broke.