Spotlight on exile and migration in National Day institutional event
Traditional commemoration organized by Catalan authorities postponed until September 11 due to heavy rain the night before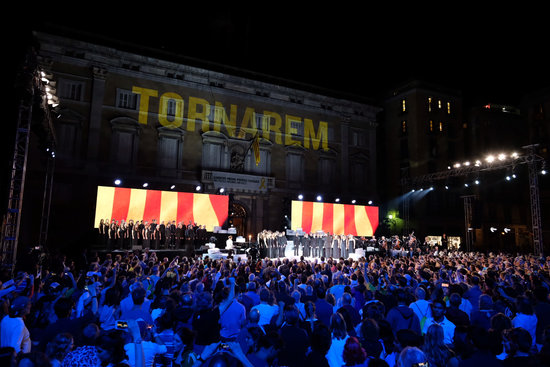 September 11 is a special day of the year for Catalonia, as it is the country's National Day, known as the Diada. A mainstay of the celebration is the institutional event organized by the authorities, which kicks off the occasion the night before.
This year, however, heavy rain on September 10 meant the event, titled 'Tornarem', a piece dedicated to the concepts of exile and migration directed by Lluís Danés - had to be postponed until the day itself.
Yet, the award of distinctions went ahead on the eve of the Diada, with the presentation of the Medal of Honor to the heads of two NGOs devoted to rescuing migrants stranded at sea, Òscar Camps of Proactiva Open Arms and Carola Rackete of Sea Watch.
Also before the big day was the traditional floral offering at the Fossar de les Moreres, the memorial square in Barcelona built over a cemetery where defenders of the city were buried at the end of the War of the Spanish Succession in 1714.
Held in Barcelona's Sant Jaume square, home to the Catalan government and city council buildings, the event directed by Danés celebrated collective resistance and freedom for political prisoners and exiles.
The latter was a central theme of the Diada celebrations, with the Supreme Court's verdict in the trial of jailed Catalan politicians and activists due in the coming weeks and a number of Catalan politicians abroad unable to return home for fear of arrest.
Led by president Quim Torra and parliament speaker Roger Torrent, the event began with a formal display by the Mossos d'Esquadra Catalan police, which this year celebrates its three hundred anniversary, making it the oldest force in Europe and America.
Also on a day devoted to national pride, which saw hundreds of thousands turn out to call for Catalonia's self-determination, a key feature of the event was the raising of the Catalan flag while the Cor Jove Nacional choir sang the national anthem, El Cant de la Senyera.
he main feature of the night, 'Tornarem', commemorated La Canadiense strike in 1919 that led to an eight-hour working day, the centenary of the birth of Catalan poet Joan Brossa, and the 80th anniversary of the exodus that took place following the Civil War.