Children to be allowed out for walks after Spanish government U-turn
Catalan government had criticized original proposal to instead let children join adults in activities like visiting supermarkets or banks only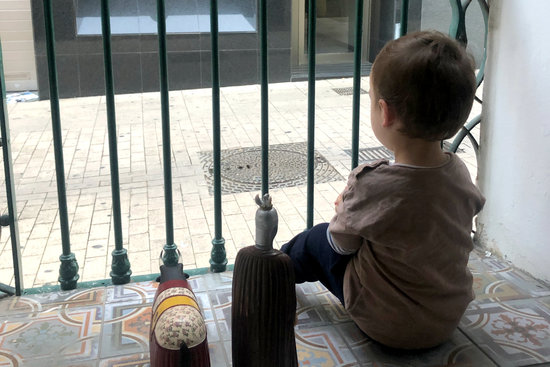 Children under 14 will be allowed to leave home confinement to go for a walk once a day with one of their parents or guardians from Sunday April 26.
The announcement from Spanish health minister Salvador Illa late on Tuesday evening came just hours after his government colleague Maria Jesús Montero had stated that children would only be allowed out to "accompany adults doing activities permitted during the state of alarm, like trips to the supermarket or pharmacy."
Details and conditions such as "the maximum time and distance" are still to be confirmed, according to Illa.
The Catalan government proposals, in contrast to those set out by Montero, include letting children access parks and areas with gardens - but not kid's play parks - for up to 2 hours a day.
Quim Torra's executive planned to allow all minors from 0 to 17 years to leave home with time slots for different age groups.
These 2-hour time slots would permit children up until 6 years of age to leave home between 12pm and 2pm, while those between the ages of 6 and 16 would be allowed out from 4pm to 6pm and 16 and 17-year-olds from 6pm to 8pm. Unlike the others, 16 and 17-year-olds would not require parental supervision.
Catalonia asks Madrid to return powers
Since the state of alarm meant Spain taking over Catalonia's key services and centralizing powers when it comes to the response to Covid-19, Torra's proposal in principle cannot come into force unless it is approved by Madrid.
"As we ease restrictions it is imperative that responsibilities be returned to the Catalan government. We hope that in the next few hours the Spanish executive will do so," the Catalan cabinet's spokesperson, Meritxell Budó said on Tuesday.
Spain's representative Montero said that the extension of the state of alarm that is planned allows for the relaxation of confinement to be different in each territory, but she did not mention a devolution of powers to regions.
Avoiding crowding
Before Illa announced the change in proposal, Catalan health minister Alba Vergés had criticized the Spanish government's plans to allow minors to go out to do the same activities as adults rather than letting them go out for strolls.
The Catalan government proposal was for minors "to be able to go for a walk, to have space that they don't at home, not to crowd our establishments and cause more tension," the minister said, asking for the measure to be justified.
Working from home "preferred" for another two months
The Spanish government also announced that working from home will be "preferred" for another two months.
This was one of the 30 work and economy measures approved by Sánchez's cabinet on Tuesday, also including a two-month extension for the option of adapting and reducing working hours in order to take care of dependent people.
Other measures include the possibility for firms developing essential activities to include in their redundancy schemes the staff not directly involved in the essential service.
Those eligible to ask for an unemployment benefit will now include those sacked during their probation period from March 9 and those who, from March 1, quitted their posts to accept an offer that in the end was withdrawn due to Covid-19.