Some 'heroes' who faced the attacks now prosecuted or jailed
Solidarity from members of the public included free taxi rides and hotel rooms, legal help and giving water to police officers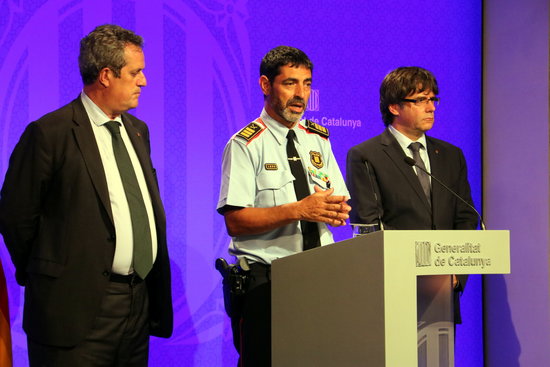 August 17, 2017 will not only be remembered in Catalonia for the jihadist attacks that killed 16 people, most of them on La Rambla, Barcelona's iconic boulevard.
The prompt reaction by members of the public in offering help to victims, including support on the spot, free taxi rides and hotel rooms, blood donations, legal help, bringing water to police officers and car drivers trapped in traffic jams, and a spontaneous memorial with 12,000 items are among the top memories of those days among Catalans.
Anonymous heroes
Anonymous heroes, as some might call them, emerged from across the city, and beyond.
Yet they were not the only ones deserving of praise. The professionals in the emergency services were also hailed for their reaction to the incidents in the minutes, hours and days following the attack, as well as for their communication skills.
Major Trapero, prosecuted for sedition
One person who drew special attention during the whole crisis was Josep Lluís Trapero, the then head of the Catalan police, the Mossos d'Esquadra.
His contributions in press conferences were applauded by citizens on social media and by politicians, especially his ability to clearly explain the situation in a calm and serious tone.
Trapero's force had arrested or shot dead all the alleged terrorist cell members by August 21, just four days after the attacks. On that day, the van driver who had run over dozens of people on La Rambla, Younes Abouyaaqoub, was caught and shot dead after days on the run.
Yet, Trapero is now being prosecuted for sedition and criminal organization for his later role in the independence bid, which peaked on October 1, 2017 and the unilateral vote on self-determination.
Last October he was also sacked as Mossos head and now faces up to 15 to 20 years in jail.
Former minister Forn, incarcerated
Another prominent figure those days was the former home affairs minister, Joaquim Forn, who had only been in the post for a month. As the member of the Catalan executive in charge of the security forces, he faced the media alongside Trapero several times.
Yet, due to his involvement as home affairs minister in the independence bid, Forn was also removed in late October and accused of rebellion and misuse of public funds, crimes which can carry more than 30 years in jail. Forn has now been in preventive detention for more than eight months.
Former president Puigdemont, in exile
Along with Forn and Trapero, the former Catalan president, Carles Puigdemont, offered explanations to the public several times in press conferences. All three took part in the appearance confirming Abouyaaqoub's death on August 21.
As with the other two, Puigdemont is involved in a judicial case for his government's push for independence. Also facing rebellion and misuse of public funds charges in Spain, Puigdemont went into exile at the end of October and is currently residing in Waterloo, Belgium.