Right-wing unionists decry Catalan-Spanish cabinet meeting
People's Party says Socialists will be negotiating with "pro-independence virus" as Cs questions funding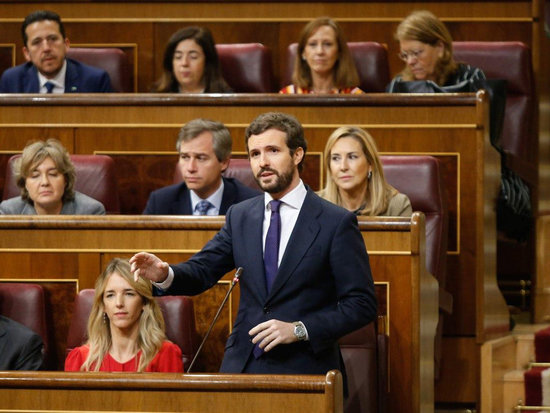 Spain's unionist parties have unsurprisingly positioned themselves against the bilateral negotiation table between the Spanish and Catalan governments on Catalonia's "political conflict," with the first of these talks kicking off on Wednesday at 4:30 pm.
People's Party head Pablo Casado said the meeting would break up Spain's sovereignty in his Wednesday morning speech in Congress and criticized Spanish president Pedro Sánchez's decision to have health minister Salvador Illa, who also happens to be Catalan, attend the meeting.
"[Sánchez] is even taking the health minister with him [to talks with the Catalan government] to negotiate with the pro-independence virus rather than implementing measures to mitigate the effects of the coronavirus," the conservative politician complained.
Casado's fellow party mate Cayetana Álvarez de Toledo, who is an MP for Barcelona, continued in the same vein, claiming that the talks, which she described as a "requiem," will mark the "left's self-interment."
Ciutadans, on the other hand, used their time in Congress on Wednesday to question how the meetings would be funded, with MP Edmundo Bal wondering whether they would be "paid for with the tax money of all Spaniards."