Puigdemont's seat in EU Parliament declared vacant by Spain
Electoral authority blocks appointment of three Catalan MEPs-elect who are either in jail or exiled, including former president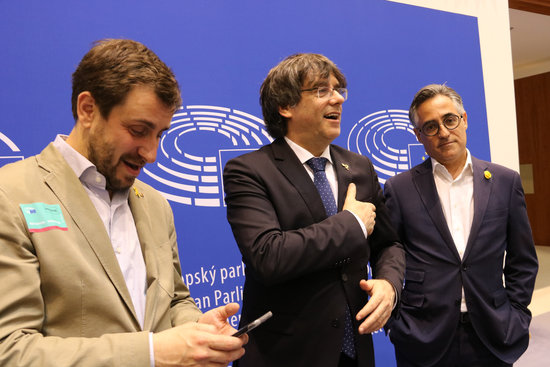 Three European Parliament seats won in the recent EU-wide election by jailed and exiled Catalan independence leaders will be left vacant, including that of former president Carles Puigdemont, as confirmed by Spain's electoral authority on Thursday.
Puigdemont was allowed to run in the May 26 election, as were Toni Comín — a former minister who also left Catalonia to seek refuge in Belgium — , and Oriol Junqueras, the former vice president who currently remains jailed in Spain. Yet Spain blocked their attempt to make their election effective.
While Puigdemont and Comín's lawyer, Gonzalo Boye, attempted to take the oath of office on behalf of his clients, the electoral authority has not authorized it. Puigdemont and Comín have pledged to take their case to the Court of Justice of the European Union.
Meanwhile, the Spanish prosecutor is against taking Junqueras' case to the same court. He was not granted a permit to attend a compulsory event to take up his seat on Monday.
The former vice president, waiting in a cell for his sentence, then requested the court in charge of the case to ask the European Court of Justice to have a say on him being excluded from the EU Parliament.
Junqueras' lawyers urged Spain's top court to "temporarily suspend" the ban and file a series of "prejudicial questions" to Luxembourg to determine whether the decision to prevent him from taking up his seat is against European law or not.
Yet on Thursday, Spain's public prosecutor sided against the petition, arguing that the judges' original decision is right and lawful.
The institution also rejects Junqueras' Supreme Court appeal asking it to reconsider its decision, in which he argued that he may have immunity as an official from the moment he was elected MEP in the May 26 election.
For the prosecutor, immunity is only applicable when individuals fulfill all procedures required to take up their seats, culminating in Strasbourg on July 2 with the first plenary session of the new EU term.