Puigdemont requests withdrawal of his extradition order following ECJ Junqueras ruling
The former president also requests judge Pablo Llarena leave the team investigating him for a lack of impartiality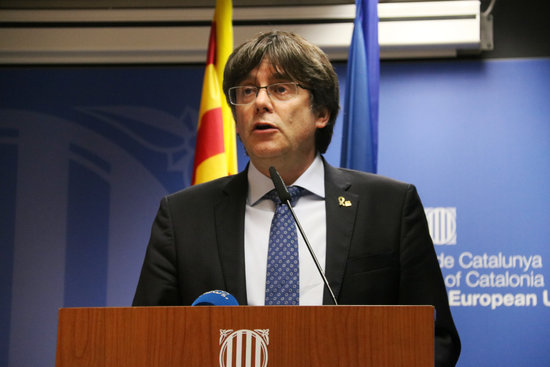 The former Catalan president, Carles Puigdemont, has filed a letter to the Supreme Court requesting the judge in charge of his case to remove the European arrest warrant following the European Court of Justice's (ECJ) ruling in the Junqueras immunity case.
Last week, Puigdemont obtained provisional MEP accreditation following the ruling, but the Spanish government were quick to stress that the former Catalan president still had "charges to answer."
The ECJ declared that ERC leader Oriol Junqueras had parliamentary immunity from the moment the results of the European election were declared and thus should have been freed from prison. As Carles Puigdemont was also declared a winner in the same election, the ruling would imply that the former president enjoys the same privileges.
In his 63-page letter, Puigdemont also requests that judge Pablo Llarena throw out the case against him, or at least leave the team investigating the pro-independence leader because he has "not the slightest appearance of impartiality."
Puigdemont's defense calls on Llarena to "void the national order of search, capture and detention" as well as "the European and international arrest warrants issued" because in his opinion they have been issued "without legal basis and without the prior authorization of the European Parliament."
The Junts head also asks Llarena to void "any other precautionary measure" that would subsist against him, even if they have been agreed prior to his election as a Member of the European Parliament. He must do so, according to the former president's defense, because they are "incompatible with the immunities inherent in this condition."