Puigdemont obtains temporary MEP accreditation
Former president says he is "absolutely" sure he will attend January 13 plenary session after EU court annuls decision preventing him from taking up his seat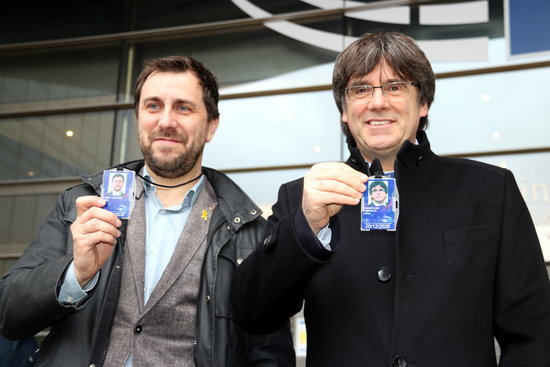 Former Catalan president Carles Puigdemont has been granted temporary accreditation as MEP on Friday at noon after entering the European Parliament along with another pro-independence MEP-elect, Toni Comín.
Talking to the press, both said that they are "absolutely" sure that they will be able to take part in the January 13 plenary session from their seats in the chamber.
They were allowed to access the EU chamber premises on Friday after European Parliament president David Sassoli lifted their entry ban.
First contact with parliament 'pleasant'
Both MEPs-elect spent some time on the chamber premises, after which they spoke to the press and stated that their feelings after their first contact with the parliament were "pleasant."
"European justice is the one that protects us, the one that prevails - if it were for the Spanish one, we would already be in jail."
They are expected to be able to complete the procedure to take up their seats on January 6 or immediately afterwards.
EU court annuls decision preventing them from taking up their seats
This happened just hours after the European Court of Justice (ECJ) annulled the EU General Court decision preventing exiled Catalan pro-independence leaders Carles Puigdemont and Toni Comín from taking up their seats as MEPs in the European Parliament's opening session in July.
Friday's ruling sides with the Catalan politicians, who appealed the decision taken by the General Court judges in July, and says that at the time the court "made a mistake."
The EU's top court referred the matter back to the General Court to be "reexamined."
Oriol Junqueras' immunity confirmed
This comes a day after the ECJ confirmed the immunity of Oriol Junqueras, who like Puigdemont and Comín, was elected a Member of the European Parliament in the May election, but was in preventive detention in Spain and not allowed to take up his seat.
This means the judges think Junqueras should have been able to become an MEP on winning his seat, opening the door for Puigdemont and Comín – not serving prison sentences and not barred from office, as they went into exile – to take up their seats.
Both exiled former cabinet members entered the EU chamber premises on Friday shortly before noon, after its head lifted a ban on both Puigdemont and Comín to enter the chamber.