Spanish government stresses Puigdemont's EU accreditation is 'provisional'
Acting spokeswoman adds that former Catalan president in exile still has "charges to answer" in Spain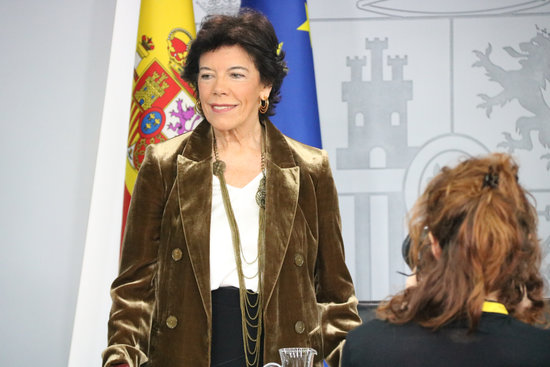 The Spanish government reacted to Carles Puigdemont and Toni Comín receiving accreditation as MEPs on Friday, by pointing out that it is "provisional" and that the former Catalan president and minister in exile are still wanted by Spain's judiciary.
Spokeswoman for the acting government, Isabel Celaá, said the European Parliament's lawyers are still studying "the extent of the resolution" in which the European Court of Justice (ECJ) ruled on Friday that they had the right to take up their seats.
Puigdemont and Comín, who have been in exile in Belgium since the 2017 failed independence bid, became MEPs in May's European Parliament election but were blocked from taking up their seats by the Spanish authorities and the EU's General Court.
What changed this week was the ECJ's confirmation of jailed former vice president Oriol Junqueras' immunity as an MEP, which opened the way for Puigdemont and Comín - who are still facing extradition - to provisionally take up their seats in the chamber.
Government position unchanged, says spokeswoman
However, on Friday, Celaá went on to point out that "for the Spanish judiciary, Puigdemont has charges against him that he obviously must answer, and so that leaves the government where we were before."
Spain is in the process of trying to extradite Puigdemont and two of his former ministers - including Comín - from Belgium, but with the ECJ's ruling due this week, the court handling their cases decided to postpone their hearing until February 3.
"We are waiting," said Celaá, in reference to the legal examination of the ruling, adding that "we leave legal questions to the legal sphere, while in the political sphere, the Spanish government continues with dialogue."