Puigdemont, Comín and Ponsatí to attend 'political' event in Perpignan on February 29
Former Catalan president and ministers will return to "Catalan soil" for first time since 2017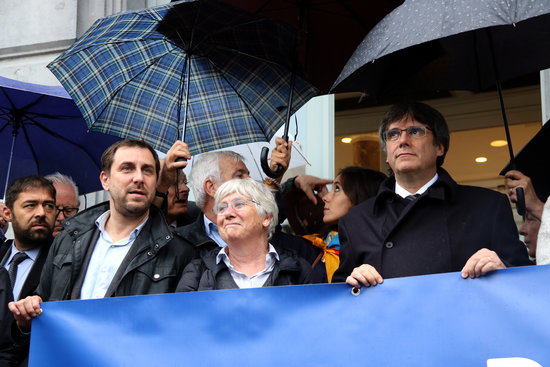 Former Catalan president Carles Puigdemont, as well as former ministers Toni Comín and Clara Ponsatí, have announced that they will attend a "political" Council for the Republic event in Perpignan, France, on February 29.
As the city is located not far from the border, in the so-called Northern Catalonia, the pro-independence council claims it will be the first time they return to "Catalan soil" following their exile to Belgium and Scotland after the failed 2017 secession bid. All three politicians face arrest in Spain for their role in the referendum.
The Council for the Republic expects the event will attract some 100,000 people to Perpignan's Parc de les Exposicions in what it hopes will be "a first step" towards allowing the Catalan politicians to return home.
Puigdemont and Comín enjoy parliamentary immunity as MEPs, which they believe they will still have by the end of February despite the fact that Spain's Supreme Court has formally asked the European Parliament to strip them of it.
After the UK leaves the EU on January 31, Clara Ponsatí will also become an MEP as 5 seats will be redistributed to Spain.