Puigdemont and jailed Catalan MPs to denounce 'violation' of political rights in UN
Pro-independence leaders to bring their suspension as MPs to Human Rights Committee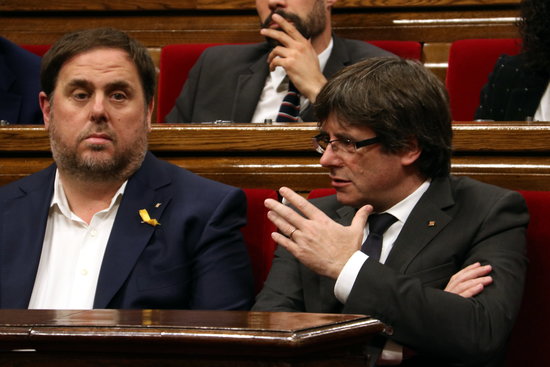 Former Catalan president Carles Puigdemont and five pro-independence leaders in pre-trial jail will bring the "violation of their political rights as MPs" to the United Nations Committee for Human Rights.
Spain's Supreme Court indicted Puigdemont and his fellow MPs for the crime of rebellion and ordered their suspension from their parliament seats last July, a decision that pro-independence parties dismissed as illegitimate.
Catalonia's ruling coalition partners, Junts per Catalunya (JxCat) and Esquerra (ERC), consequently lost their majority in the chamber after the former president and other lawmakers resisted being replaced.
The Spanish Constitutional Court confirmed the suspension of Puigdemont last week, while also maintaining the precautionary measure for Oriol Junqueras, Josep Rull, Jordi Turull, Jordi Sànchez, and Raül Romeva.
Pro-independence parties are to explain the details of the legal procedure in a joint press conference in Geneva on Thursday. Puigdemont, exiled in Belgium, will speak on behalf of JxCat, while Marta Rovira, seeking refuge in Switzerland, will represent ERC. CUP MP Maria Sirvent will also travel to Geneva to speak at the conference.