President Pere Aragonès's phone targeted by Pegasus spyware in 2020
Over 60 Catalan pro-independence infected with software that also attacked all Catalan presidents since 2010, some when still in office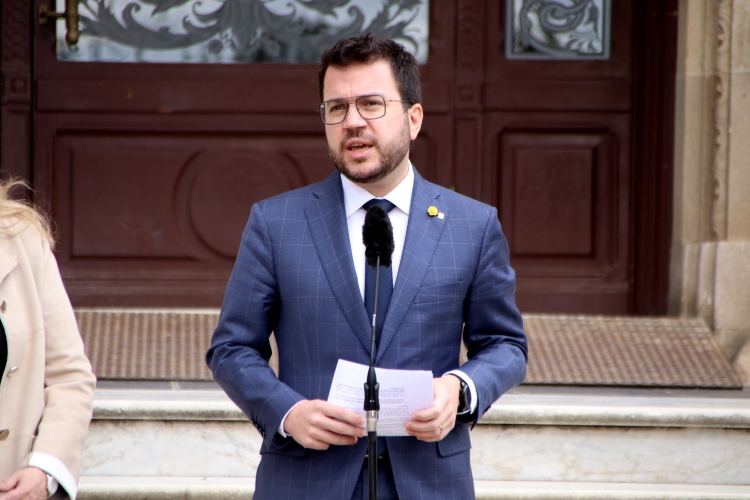 The Catalan president, Pere Aragonès, has been hacked with Israeli's NSO Group technology known as Pegasus, a long-piece report published by The New Yorker magazine on Monday revealed.
Under the 'How Democracies Spy on Their Citizens' title, the article explains how several Catalan pro-independence politicians and their close contacts have been attacked. This information has been gathered by a "research group based at the University of Toronto that focuses on high-tech human-rights abuses," Citizen Lab.
"NSO Group's software has been linked to repressive regimes, but now "all types of governments" use it, an observer said," the article reads.
According to the magazine, other Catalan pro-independence figures have also been hacked, such as former president Carles Puigdemont's lawyer Gonzalo Boye or one of his collaborators Joan Matamala.
In fact, Boye was targeted up to 18 times in what it was supposed to be Twitter updates. The American site confirms "at least one attempt resulted in a successful Pegasus infection." The lawyer is now preparing criminal complaints to Spanish and other European countries' courts against Israel's company NSO and its CEO, Shalev Hulio.
Pegasus is a software used by states that allow access to messages, hard drives, listening to conversations, and activating microphone and camera remotely.
President Pere Aragonès however is not the only member of the Esquerra Republicana (ERC) party attacked with NSO's software. The New Yorker reports that ERC's Member of the European Parliament (MEP) Jordi Solé was also a victim.
Solé gave his "silver iPhone 8 Plus" to check to a member of the Citizen Lab as "he had been getting suspicious texts and wanted to have the device analyzed," the New Yorker reads.
It was confirmed that in June 2020 his phone had suffered two infections.
"More than sixty phones—owned by Catalan politicians, lawyers, and activists in Spain and across Europe—have been targeted using Pegasus. This is the largest forensically documented cluster of such attacks and infections on record," the New Yorker publishes.
However, "Spain definitely has a rule of law," Shalev Hulio, NSO Group's CEO, told to the New Yorker. "And if everything was legal, with the approval of the Supreme Court, or with the approval of all the lawful mechanisms, then it can't be misused," he added.
Several Catalan presidents infected
The American magazine quotes Aragonès saying "we are not criminals." He, according to the article, is one of the three Catalan presidents "whose phones have been infected with Pegasus."
"What we want from the Spanish authorities is transparency," Aragonès added during his interview with The New Yorker writer, Ronan Farrow.
"Every Catalan president since 2010 has been targeted or infected with Pegasus, either while serving their term, before, or after their retirement," the report published by Citizen Lab reads.
While President Pere Aragonès has been infected while he was serving as vice president during Quim Torra's presidency, Torra was infected while serving as the Catalan leader.
Former president Carles Puigdemont has also been a victim of Pegasus but he has never been personally infected, according to information published by The Citizen Lab and The New Yorker. Up to 11 people in touch with Puigdemont have been infected, including his wife.
The last Catalan president infected is Artur Mas that served between 2010 and 2015, before stepping down as he did not get enough parliamentary support. He was infected after leaving office.
On Sunday, Spanish El País newspaper reported that former vice president Oriol Junqueras' lawyer Andreu van den Eynde was also attacked, as well as other pro-independence activists. Including, the current Business department secretary-general, Oriol Sagrera.
This same newspaper with the British 'The Guardian' published in 2020 that at-the-time-parliament speaker and now Business minister, Roger Torrent, had been infected with Pegasus' software, as well as former far-left CUP MP Anna Gabriel, and Barcelona's ERC city council leader Ernest Maragall.
Global threat
Pegasus has not only been used among Catalan pro-independence activists but also among other internationally renowned people.
One of the most famous victims is murdered Saudi Arabian journalist Jamal Khashoggi. The software was allegedly used to monitor phones that belonged to his associates in 2018.
Other examples include journalists in south-American El Salvador investigating corruption, or in Mexico, where the software was traced on some phones of people close to murdered reporter Javier Valdez Cárdenas.
Politically it has also been used to target members of Rwanda's opposition party, as The New Yorker explains. Or even, on July 7, 2020, when Citizen Lab discovered a device connected to the United Kingdom Prime Minister's office, London's 10 Downing Street.
Countries in the European Union, such as Germany, Poland, and Hungary have confirmed their authorities do use the Israeli software.
In 2021, Spain's government denied any knowledge of attacks using this software against Spanish citizens.