Phone of Catalan parliament speaker allegedly targeted by state-level spyware
Roger Torrent accuses Spain of "dirty war" and announces legal action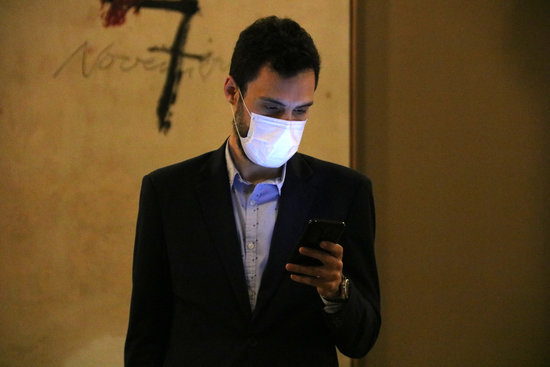 The phones of Catalan parliament speaker Roger Torrent and two other pro-independence activists were targeted using spyware that experts say is only sold to governments to track criminals and terrorists, as revealed by The Guardian and El País.
According to the joint investigation, the spyware exploited a vulnerability in Whatsapp software that would give potential access to everything on the targeted mobile phone, from emails and text messages to the camera and recorder—thus opening the possibility of turning the phone into a spying device.
A member of the left-wing Esquerra (ERC) party and one of the most senior politicians in Catalonia, Torrent believes Spain is behind the attack and says he will take "legal and political action" to make sure this case serves to put an end to the "dirty war against the independence movement".
"For the first time, what we already knew and denounced has been proven true: that the Spanish state spies on political opponents," said Torrent, adding that the newspaper reports were "extremely serious".
The parliament speaker said that it was unseemly for a democracy to illegally spy on political opponents and, for him, it provides further evidence of a "general cause against independence".
Torrent said it "degrades" the democracy of the Spanish state and should be of "enormous" concern to all democrats.
Referring to the Spanish government he added: "It cannot allow such practices to go unpunished."
"Maximum solidarity"
The Catalan government expressed its support and "maximum solidarity" with the parliament speaker following a meeting of the executive on Tuesday afternoon.
Government spokesperson Meritxell Budó demanded an investigation into what was done, how, and by whom. "We want to know everything," she said.
Spain has "no record" of hacking
Meanwhile the Spanish government's spokesperson, María Jesús Montero, claimed that her administration has "no record" of any hacking or theft of Torrent's phone.
Montero said she could "not provide any information on the issue" and Torrent should report the alleged hacking to the police for it to be investigated, as any member of the public would do.
The Spanish Interior Ministry has said that it has never contracted the services of the Israeli company NSO that makes the Pegasus program that was allegedly used spy on Torrent.
Sources in the ministry said that "neither the Interior Ministry, nor the Spanish police, have ever had any relationship with NSO and, therefore, have never hired any of their services".
Ernest Maragall says his phone was targeted too
Ernest Maragall, a Catalan MP and former member of the European Parliament who served as foreign affairs minister at the Catalan government, said later on Tuesday that his phone was also hacked.
"The worst part is that the news come as no surprise. There are cases much worse than this one, that's an illegal and unacceptable espionage, like prison and judicial persecution," he said via Twitter.