Parliamentary report advises lifting Puigdemont's immunity as MEP
Paper written by ultra-conservative Dzhambazki will be voted on in EU chamber legal committee on February 23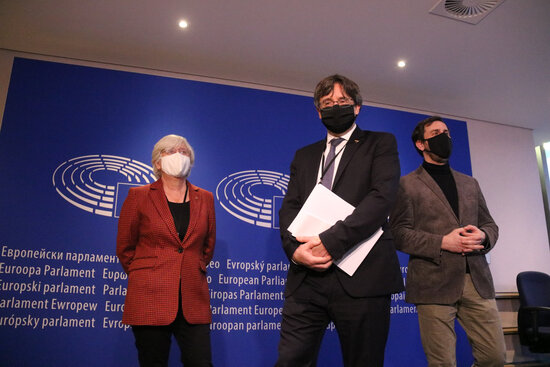 A European Parliament legal affairs committee report advises lifting the immunity of Catalan pro-independence leaders Carles Puigdemont, Toni Comín and Clara Ponsatí's as MEPs, as the Spanish daily ABC published and Agència Catalana de Notícies (ACN) confirmed.
Following their appointment as European representatives, their extradition requests by Spain were frozen because they began to enjoy privileges as MEPs – yet, the Spanish judiciary is now requesting that they lose these privileges so the procedure which could end up in them being handed over to Spain can continue.
The European parliament will vote in early March on the former Catalan president Carles Puigdemont's immunity – but before that, the report made by ultra-conservative Bulgarian MEP Angel Dzhambazki on whether their immunity should be removed or preserved will be presented next Monday to the members of the chamber's legal affairs committee, and voted on by the group on Tuesday, February 23.
'Breach of confidentiality'
The paper proposes waiving their privileges, and the pro-independence leaders' group, Junts per Catalunya, denounced a "breach of confidentiality," since the chamber establishes that no committee members can reveal the content of any report before its vote.
Indeed, on Thursday early afternoon, Puigdemont's team announced they will file a complaint before the chamber speaker, David Sassoli, for the leak.
Spain's extradition attempt
The politicians are wanted by Spain because of their role in the 2017 independence push - this is the third time the Supreme Court attempts to have them handed over, after two previous failed attempts in which either Belgium, Germany, and Scotland rejected the full terms of their extradition, or Spain withdrew the EU arrest warrant before it was denied.
Along with their lawyer, Gonzalo Boye, Puigdemont, Comín and Ponsatí attended a hearing at the European Parliament's Committee on Legal Affairs in January, to argue against the Spanish Supreme Court's motion to waive their political immunity, the approval of which is necessary for Spain's extradition attempt to move forward. These proceedings took place behind closed doors almost a year after the court's initial request.
Even if the Catalan pro-independence politicians were stripped of their immunity, they would still retain their status as MEPs until a potential conviction barring them from office, even if Belgium, or Scotland in the case of Ponsatí, decided to hand them over to Spain.
As the case of Lluís Puig demonstrated, not having political immunity does not automatically guarantee these politicians will be extradited.